How to avoid problems with a natural stone project!
Successful installations start with thorough preparation.
Natural stone is a very specialised field and just one of so many different subject areas for the design professional to master.
All marble and limestone, just like any other type of surface, has to be installed well for the end result to look and perform as well as it can. But even the best natural stone can be disappointing if the installation is untidy. Worse still, the beautiful marble or limestone that you and your client spent precious time selecting can fail if the preparation is not done correctly. Cracks or marks may appear and you could be left with an unhappy customer, something that no-one wants.
Getting the preparation right in the first place may seem like a lot of effort but it is far more efficient and cost effective than discovering problems further down the line and having to start all over again.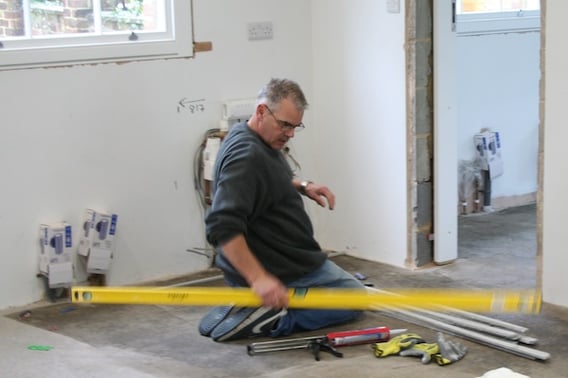 Assessing levels prior to tiling
We have had a number of calls over the last year or so from Interior Designers, Architects, Installers and their clients who have been looking for help with problems on their projects. In every case, these problems have been avoidable. It just requires the understanding of a few simple processes.
Ideally, your supplier and installation team should be members of the Stone Federation of Great Britain, the UK's leading experts in all aspects of natural stone. The Federation members are vetted by industry experts to ensure that they have the skills and experience to work with natural stone.
We, at Amarestone, deliver some of the training on natural stone installation to fellow members of the Stone Federation. We have devised a seminar to give you the same information that members receive on their specialist training days but tailored to your specific needs.
In this seminar, we aim to help you answer some of the most important questions:
what sort of problems might occur and how do I avoid them?

what should I include in my design spec to ensure a long-lasting result?
how do I know that my chosen installers are capable of a quality job?

how do I ensure my design maximises the potential of the natural stone?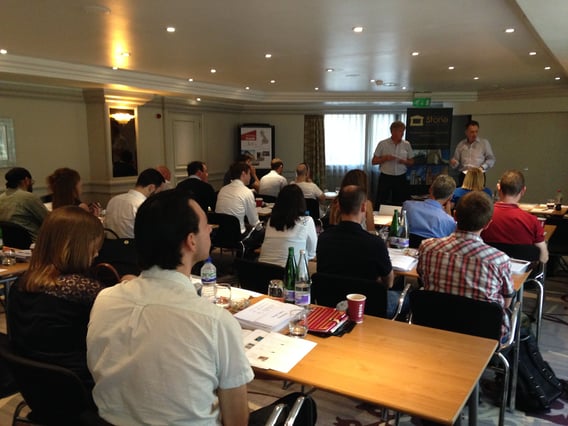 Steve Turner presenting the "Stone Installation" seminar to Stone Federation members
To get more information about the forthcoming seminars, please fill in the form on this page or speak directly to Steve on 0345 360 8070.