French Limestone - choosing the right one:
I was approached a little while ago to source some French limestone flooring for a private customer who was renovating a kitchen in an old house. I asked which particular French stone they had in mind and the reply came back that, "French Limestone is French Limestone, isn't it? Isn't it all the same thing?"
They had seen stone with French names on other web sites, one purporting to be "Dijon" limestone and another more generically labelled "Burgogne" (spelling!) limestone. More recently, the name of "La Rochelle limestone" has appeared on the internet.
When I investigated further, I found that the so-called "Dijon" and "La Rochelle" stones were both Sinai Pearl limestone from Egypt and the other "Burgogne" stone is actually Moleanos from Portugal. These were all from major UK stone importers that you will undoubtedly have heard of. Another French sounding stone that I found was even a low grade travertine from Turkey! There are lots of other examples, not just these that I mention here. Don't believe everything you see on the internet!
Genuine French limestone is as varied as France itself. It is famous for the sandy coloured stone of the Burgundy region as you can see in our picture below of the Antiqued Chanceaux but the choice and style of French limestone is huge. To give you an idea of how many different stones there are, would it surprise you to know that we deal with over 70 different quarries in France and they produce stone that ranges in colour from black to white through blues, reds and creams? What's more, our range is growing all the time. See our blog on a recent visit by a French quarry owner where we were shown limestone from two new quarries.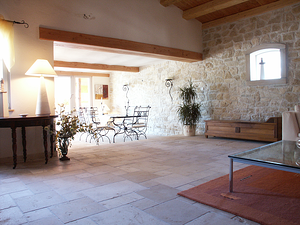 The antiqued Chanceaux limestone flooring here is one of my favourites and we have been working with this quarry for over 15 years now. They can produce this stone in a wide range of sizes, thicknesses and finishes. The brushed finish, produced in random lengths, has become popular with customers looking for something more contemporary than the traditional antiqued finish but it still has the forgiving surface finish that is easy to care for. Also, the random length option works out slightly more cost effective than the fixed tile sizes and is a good way of covering large areas.
The quarry is in the heart of Burgundy in central France, miles from the nearest town but conveniently close to a great little restaurant - my idea of heaven! We visit both on a regular basis. I really love my job!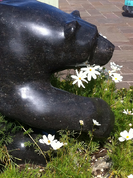 As a complete contrast, we have recently got to know a quarry on the Belgian border that produces a superb hard black limestone, Soignies, which is also known as Belgian Fossil. This stone can be polished to a high shine and the small fossils in the stone give it great character. By applying different textures to the surface, we can alter the colour from a light grey through to black. It's a great material for Interior Designers as we can create a range of colours all in the same piece of stone.
It works well as a limestone flooring suitable for high-traffic areas and, like other French limestones and marbles, can be made into worktops, basins, shower trays and other bespoke pieces. For those of you who have visited the Bicester Village shopping outlet, you may have seen the two bears made from this stone.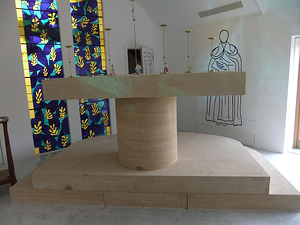 The image on the left shows an altar made from St. Maximin limestone that we created for a client in the UK. It's a replica of the altar in the famous chapel designed by Matisse in the hill village of Vence next to Nice on the Cote d'Azur. The stone was specifically chosen to resemble the texture of bread.
The choice of genuine French stone is vast and the quality is always very high. Certain stones are suited to certain types of use but not everything is suitable for everywhere. However, there will be something to suit every project.
Amarestone exists to help you make the right choice, whether it is French limestone or any other type of quality stone from other quarries around the world. Our aim is to help make your project an outstanding success.
Thank you for showing an interest in French Limestone and I hope that this short blog has helped you to appreciate the range of stone that is available.
Natural Stone - Get help on our Resources Page
Natural stone, in all its forms, can be confusing. How do you know what to choose? Will the stone perform well in your environment? Will it be easy to clean? What other questions should you be asking???
Many of these concerns are raised by visitors to our Winchester showroom and to our stand at exhibitions. After a recent exhibition at the Homebuilding and Renovating show, I put together a "Resources" page on our web site where you can download lots more information that I hope will answer many of your questions.
Click below to get more information:
For further details or to see more French limestone, please visit our French Limestone page or call us on 0345 260 8070. I'm always particularly happy to talk about French stone.
Steve