With our extensive network of contacts in the quarries throughout France, we have become known as the people who can source many of the well-known French limestones. Now though, the less well known limestone quarries are approaching us and enabling us to offer an even wider range.
Recently, we had a visitor from France who brought some samples of two French limestones that we hadn't seen before.
His company owns two small quarries, one in Burgundy and the other in mid-west France and they produce the stone in a very artisan way. They don't have the huge sheds of machinery that we see in some of the other major quarries but rely on their team of skilled stone masons to produce hand-finished surfaces.
The samples that he left with us really excited us.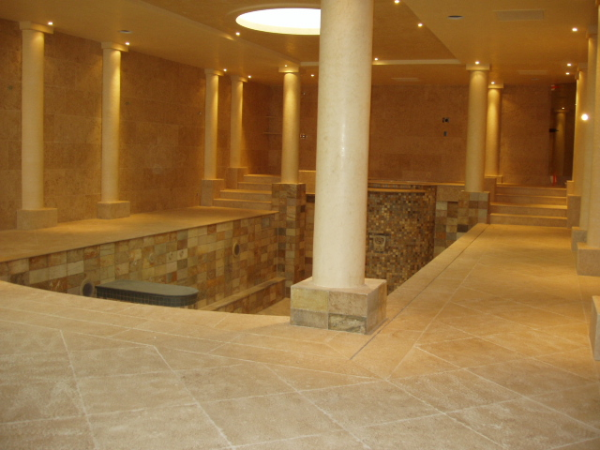 Vallangis - French Limestone for Flooring, Tiles and Bespoke pieces
The first of the two limestones is Vallangis. It is quarried in the Burgundy region of France, as famous for its high-quality limestone as it is for its wine. In fact, this particular stone originates from the Chablis area. The photo above shows the Vallangis French Limestone flooring tiles and pool coping stones in the Chateau finish which gives a slip-resistant surface that works well around swimming pools and on external patios.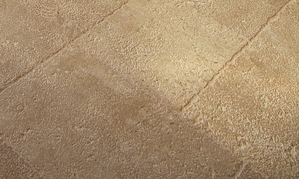 This image shows a close-up of the hand-finished detail that the French quarry have applied to this dense, hardwearing limestone. It gives an aged feel to the stone and makes it ideal for areas where a rustic, traditional look is required or where a good degree of slip resistance is needed. It makes it perfect for external paving, patios and terracing and great for swimming pool surrounds. I think it will be great for large open-plan areas such as barn conversions.
It is a very tough stone made even more durable by this textured finish.

They can produce several other surface finishes including honed which gives a smooth and more contemporary look. The "Abbaye" finish is another mostly manual process that rounds the edges of the stone to give the appearance of it having been worn down over centuries with gently distressed edges.
Roche de Clermont French Limestone
The second limestone that we saw was the Roche de Clermont (photo above). This is a pale but very dense limestone that is quarried in western France. It has the appearance of English Portland limestone with a creamy pale background and small, light grey shells.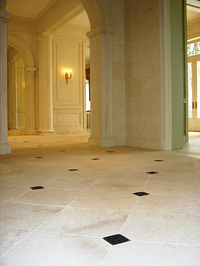 The brushed finish gives a lovely satin effect without texturing the surface too much. The density of this stone means that the brushing has only a gentle effect on the surface. The "antique" finish hides most of the shell and the result is an off-white stone that is very monotone. Normally, we would advise that very pale, plain limestones should be avoided in high traffic areas as they are usually too soft to withstand the foot traffic but this one is an exception to that rule.
The advantage of this stone over the Portland stone is that the French limestone is much harder and quite significantly less expensive than the English version.
The image to the left shows the Roche de Clermont French Limestone flooring with the "Antique" finish with black granite cabuchons. Welsh Slate cabuchons would also work really well with this limestone.
I think this is going to be a favourite with our customers. I'm excited that we now have a pale limestone that looks great, is available in the brushed, honed and antique finishes and that will withstand high traffic areas.
All in all, I'm very pleased that the quarry found us and felt that we would be a suitable outlet for their stone. It has been happening quite frequently recently. In the last few months, we have been approached by several quarries from France, Italy and Spain who have shown us stone that is not currently available elsewhere in the UK.
If you would like to know more about our other new limestones, keep an eye on our web site and visit our French Limestone page
Alternatively, subscribe to our blog by adding your email address to the form on the Blog page and you will receive updates on new arrivals and occasional useful information on how to choose your stone, sealing and maintenance and other topics related to natural stone.
If you have a project coming up that will use natural stone, our Top 5 Hints and Tips leaflet will help you find the right type of stone for your project.
Call us on 0345 260 8070 if you would like to talk through the details of your project and see which of the French stones would be suitable. We are able to offer you useful advice without any obligation. (We don't like the hard sell approach.)
Kind regards.
Steve and Denise Turner
Amarestone