Choosing "Chequerboard" Marble Tiles: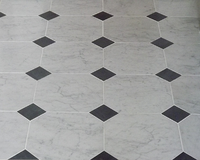 Black and white chequerboard flooring has been a popular look since Victorian times and there are many ways of recreating that look. The classic mix of Italian white Carrara marble and black Nero Marquinia marble (limestone, actually but it is often thought of as a marble) has always been popular but there are lots of other options. Read on for more details:
We have two projects on the go at the moment using Carrara and Nero Marquinia. One is for for a conservatory floor where we are installing 400x400mm white Carrara tiles with each corner of the tile cut so that we can insert a black Nero Marquinia cabuchon (small insert tile) similar to the small photo on the right. The second project is to create a courtyard patio using 300x300mm honed Carrara and honed Nero Marquinia in the classic chequerboard style of regular alternating square tiles.
Options for White:
Calacatta is another Italian marble option and comes in various forms. We installed the rare Calacatta Sam together with black Nero Marquinia to create an exquisite Victorian style honed black and white marble chequerboard floor - as in the photo at the top of the page. On this project, we needed to match an existing floor that had been laid over 100 years ago so we used our contacts in the Italian quarries to track down this particular white marble. Our remit was to restore the old, existing marble floor and steps and repair some of the damage that had happened over the last century. We also had to source matching marble tiles to install in a new orangery. By the end of the project, the client was delighted that the new floor matched the old one so closely.
There are several versions of Calacatta, as well as the Sam mentioned above and the well-known Statuario, they include the Michelangelo, the rare and expensive Borghini and, my personal favourite, the Caldia. Each of these has a white background but introduces some subtle pastel colours in the veining. The Caldia, particularly, works really well when using it in large bookmatched slabs to create the beautiful "butterfly" look.
Options for Black: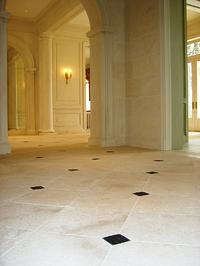 Most people think of Nero Marquinia first when choosing black marble but there are several other options. The pure black marble from Belgium is a good option and pairs well with the pure white Thassos marble from Greece where no veins or fossils are required. Another Belgian stone, Soignies limestone is very hard and polishes like a marble but has small grey fossils on a blue/black background. If you have ever visited Bicester Village shopping outlet, you will have seen the two bear statues made from this limestone on the pavement between the shops.
Welsh slate, our Spanish Phyllite or the Brazilian black slate would go well as cabochons with some of the dense pale limestones such as the beautiful Bellemont (loved by the Dior boutiques) or Roche de Clermont or Chamesson from France. See photo on left of antiqued Roche de Clermont limestone flooring, each tile with just one corner cut to make space for the small black cabochons. There are several black granites that would also work. Nero Assoluto from Italy or African Black are both popular and are hardwearing and can be cut from slabs that are usually readily available in the UK.
Variations on a Theme:
Why limit the choice to black and white, though? You could introduce some subtle colouring with one of the Calacatta marbles or go all out for a dramatic effect.
The cream coloured Spanish marble of Crema Marfil is a classic partner with the Spanish chocolate brown marble, Marron Imperial (also known as Dark Emperador) and it goes equally well with the earthy red Rojo Alicante which is also from Spain. Italian Botticino pairs beautifully with Rosso Verona or Rosso Asiago to give a hard wearing cream and red marble floor.
You could also consider using two colours of stone that is quarried from the same place such as Jura Beige and Jura Grey. These two stones lie side by side in the earth and show similar fossils and characteristics and therefore create a very natural partnership. On a similar note, the blue/grey stone and the beige stone from the Jurassic quarries in Purbeck or the grey and the cream Cenia limestone from Spain are other options. One of my favourite combinations would be the exclusive Bellemont Ivoire paired with Bellemont Bleu (also known as Tavel), both from the same quarry.
My advice would be to go for the very best quality that you can afford. Some of the cheap stones are not such good value as they first appear – but that's the subject of a different blog.
Getting it Right:
Apart from choosing two types of stone so that the colours and the veins or fossils compliment each other, there are further considerations:
Ensure that the tiles are cut accurately to the size that you want. If the tiles are cut and processed by two different quarries or processing factories, you could end up with two different sizes. Even though you have specified that the tiles should be 300x300mm, for example, all tiles are cut to a 2 or even 3mm tolerance. If one set of tiles is even 1mm larger or smaller than the other, this will result in "wobbly" grout lines and the finished effect will be untidy.

The two sets of tiles should be cut to the same thickness so that the tiler does not have to compensate for the different thickness by building up the level of adhesive on every other tile. This risks having "lips" or trip points on the floor. A good stone tiler should be able to lay a perfectly flat floor regardless of the tile thicknesses, however.

The two sets of tiles should be polished or honed to the same degree so that the whole floor has an even level of reflectiveness. Different quarries often hone or polish to different degrees of "grit" and it can end up looking uneven because one tile is more polished than the other. This is less of an issue if the two colours are strongly contrasting, though.
Our preference is to get both sets of tiles processed by the same factory. Often, the tiles will be quarried in different locations at different times but we can usually arrange to have the raw material blocks processed in the same place to give us the best possible chance of meeting the most demanding of customer expectations.
Want to Know More?
If you are considering a black and white floor or a variation on that theme and would like to know more about the options, please call Steve or Denise on 0345 260 8070 (standard rate from landlines and mobiles).
Do you need help choosing natural stone for your project? Our brochure explains how Amarestone can help you choose the right type of stone and ensure a long and trouble-free life.
Thanks for reading.
Steve Turner
Amarestone
Tel: 0345 260 8070
P.S. - get the next blog direct to your inbox by entering your email address in the box on this page.