White Italian marble for bespoke projects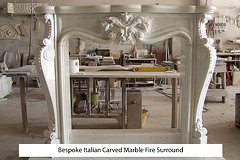 When one of our clients asks us to create a bespoke piece for their project, the material of choice is very often Italian marble. This is perhaps because of its reputation as a luxury material, however, many people are not aware of the variety that the term 'Italian marble' encompasses. In fact, there is a myriad of different Italian marbles, each with its own distinct character and geological properties.
So, which one to choose for your project?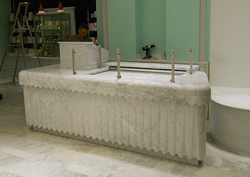 The classic Italian Carrara marble has always been popular and can be seen in the form of simple kitchen worktops or intricately carved fireplaces all over the world. Carrara is notable for its density and its grey veining and the quality of the stone is judged on the whiteness of the background and the definition of the veining. Italian white Carrara marble is graded at the quarry as either C or CD, where C has the whiter background and CD is slightly greyer. Put simply, the whiter the background of the stone, the higher the quality.
There are several variations of Carrara - some with more veining, some with less. Carrara Gioia, for example, has more veining but it can be quite fine and the marble often has a nice white background. Here then, the distinction between Carrara and Statuario becomes quite blurred. Statuario Venatino, similar to Gioia, also has fine veining but more abundant and more defined and then there is Statuario Venato where the veining tends to be broader again and the backround is often slightly whiter.
Statuario itself, then has broader grey/black veins and a clean white background and is often used as large slabs to get the full effect of the veining. See image below. It works beautifully as a "bookmatched" marble - i.e two slices of marble are cut from the block and the two facing sides are polished to produce a near mirror image. It creates a symmetrical pattern which can be used as a feature wall in a room.

Bookmatched Statuario marble slabs
Many of our clients are now choosing some of the other white Italian marbles such as Calacatta. Calacatta marble, also quarried in the Carrara region of Italy (see our previous blog to see the map of Carrara), has many variations; some of the better known examples are: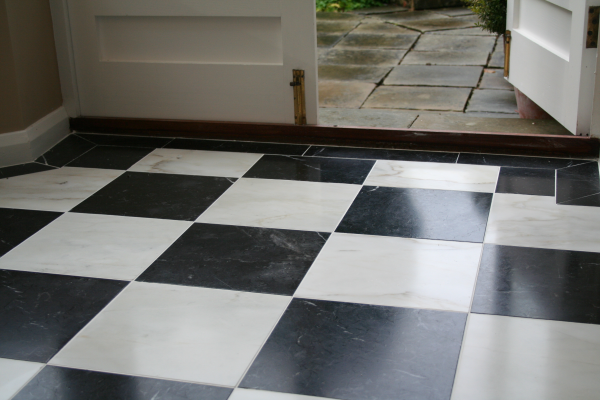 Calacatta Michelangelo which is white with soft pastel coloured veins and Calacatta Oro (also known as Calacatta Gold) which has very opulent-looking gold coloured veins. There are even many versions of the Oro, some more striking than others. However, there are lots of other Calacattas. Some that we have sourced recently include Calacatta Sam with the grey/khaki veins (see image right), Calacatta Borghini (a particularly rare form of Calacatta) with grey veins and Calacatta Caldia that sometimes has strong pastel coloured veining that bookmatches beautifully.
For something really striking, the Calacatta Viola below is stunning and can be a work of art in its own right: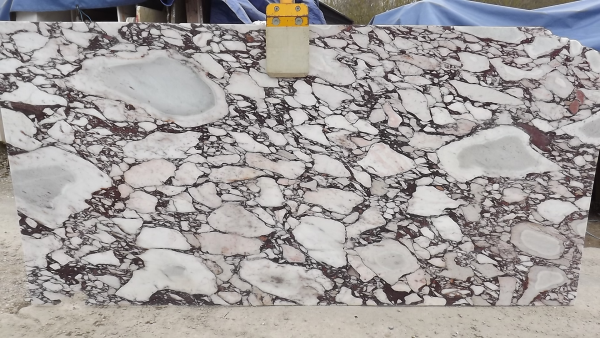 Italian Calacatta Viola marble slab
You'll often hear it said that marble and other natural stones are unique and no two pieces are alike. This is perfectly true although slabs cut from the same block share certain characteristics so it is possible to get more than one slab that displays similar veining and colouring.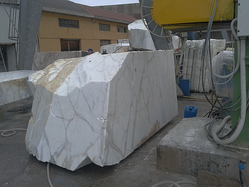 However, you should not start your search for a marble by looking for a slab with a particular pattern of veining and colouring that will suit your design. It is far better to look at a specific slab or block and then work out how you can best use it and adapt your design accordingly.
Start by looking at photos of slabs or blocks and then visit the supplier or even the quarry to see the material close up.
The image on the left is a block of Calacatta Oro that was recently quarried by one of our Italian friends.
So why do people choose Amarestone to source their white Italian marble? It might be because we have access to Italy's finest marble and have established close working relationships with the quarries. It might be because we choose carefully the quarries we work with so that we can ensure the quality of the marble we deliver and, above all, it might be that we have a genuine passion for seeing your project succeed.
If you would like to know how you can use white Italian Marble in your own project, take the first step by downloading our brochure and get in touch with us:
If you found this blog useful, enter your email address in the box on the right to subscribe to get the next article delivered directly to your inbox.
Thanks for reading.
Steve @ Amarestone