Portuguese Limestone - ideal for interior design projects
Maybe you have come across Portuguese Limestone in a photo of a beautiful interior on Pinterest or Houzz but you don't know where to go to get it for your project. Or maybe you have a friend who has used it but you are not sure whether it is right for you. Read on to find out more about Portuguese limestone and to see if it could be suitable for your project.
Portuguese quarries produce the third largest volume of natural stone for export in Europe. Quarries in the Centre and South extract varied and distinctive marbles and limestones, whereas in the North, granite is predominant. There is a growing market for Portuguese limestone in the Middle and Far East which reflects the overall trend for European stone exports to China and the Middle East. The most probable explanation for this is that Portugal, along with Italy, Spain and France, has a worldwide reputation for consistently producing high quality material using refined extraction methods and state of the art technology.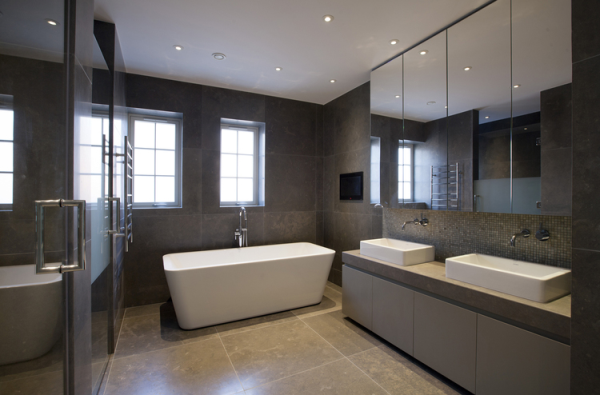 The image above shows Portuguese Azul Valverde limestone floor and wall tiles and vanity top. The bathroom (and refurbishment of the rest of the house) was designed by Catherine Lee Architecture.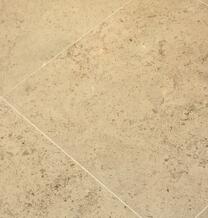 Probably the two most famous types of Portuguese limestone are Moleanos (left) and Moca Cream (below). Both types come from Central Portugal and are quarried from a relatively small area, with Moleanos quarries not more than 20km from the Moca Cream quarries.
Designers and architects working on sleek contemporary projects often favour these types of limestone for their uniform colour and neutral cream and beige tones. Used in large tile sizes, they are especially effective for creating a sense of space and calm.
There are differences between Moleanos and Moca Cream in appearance and properties that are worth noting.
Moleanos is distinctive for its uniform cream background with small shell fossils which create darker flecks, giving a slightly mottled appearance. It is also a dense limestone which makes it hard wearing and suitable for floor tiles in residential areas such as entrance halls and kitchens. Its density and fine grain also means that Moleanos can take a higher polish.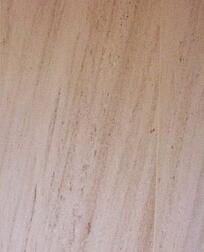 Moca Cream (right) is usually cut along the grain, creating the distinctive stripes. The stone is extracted and categorised according to the size of the grain – for example, it is available in "fine grain", "medium grain" or "gross grain".
Quarries can also cut these across the grain for a more uniform effect although "vein cut" is very much the norm for this limestone. Moca Cream is not quite as dense as Moleanos so it is more suited to cladding or lower traffic areas around the house.
Cut along the grain (as pictured), Moca Cream is a stunning material to use in a contemporary bathroom. In a recent project, we installed the tiles so that the lines were vertical and resembled water droplets running down the walls. It helped to add to the calming effect of the design in the bathroom.
At Amarestone, we are often asked to create bespoke pieces for clients who are looking for a unique feature for their project. Portuguese limestone lends itself perfectly to carving, both by machine and by hand. The fireplace below is made from blocks of Portuguese Rosal limestone and was hand-carved to our client's design in the stonemason's workshop.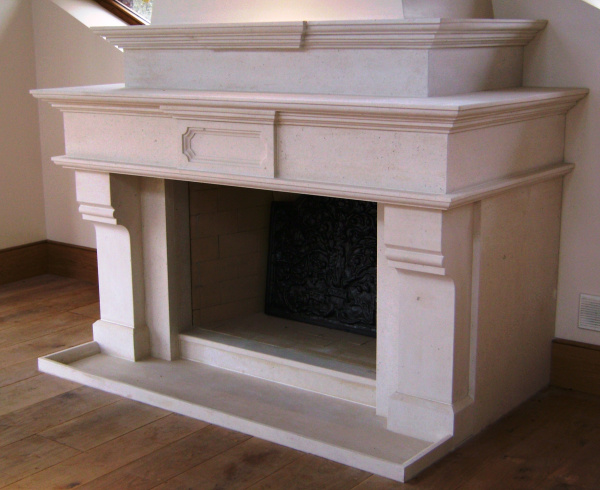 Bespoke fireplace in Portuguese Rosal Limestone
In addition to the many beige limestone types, Portuguese limestone quarries also extract a range of blue tones that are perhaps less well known. Ranging from dark blue-greys, through to light beige-blues are: Azul Valverde, Atajia Blue (the hardest Portuguese limestone), Azul Al, Atajia Mix (mixed tones of blue and beige), and Blue Moleanos.
These limestone types are generally harder than the beige tones and therefore can take a higher degree of polish. If you are looking for a hard wearing stone to fit in with a contemporary grey colour scheme, then one of these Portuguese blue limestones could be perfect.
For more ideas and help with choosing natural stone for your project, download our brochure or for more information about us, please visit our Amarestone homepage.
If you have questions about choosing and using Portuguese limestone that have not been answered above and you would like to speak to one of us directly, please call Steve on 0345 260 8070 and we will be pleased to help.
For further information, see our main page on Portuguese limestone.
Interested in other types of Portuguese natural stone? Have a look at our other blogs on Portuguese Marble.
Thanks for reading.
14/08/13 - Update:
The response to this blog in the first couple of days of it being posted has been terrific and the comments we have received from the design professionals on LinkedIn have been very complimentary. If you too found this useful or interesting, please consider sharing this blog post by clicking on the "share" buttons at the top of the page.
Thanks,
Steve