Marble Floor Tiles: Using different tile sizes to add interest with patterns.
Once you have selected the color of marble tile that you want to adorn your floor, you may want to spend some time thinking about the patterns that you can make using the size and shape of the tiles.
Being creative with marble floor tiles means that you can achieve some amazing results and change the look and feel of the room. So it's worth chatting through your requirements with your stone specialist who can advise you on the best pattern for the size of project you are undertaking.
All good stone suppliers will be able to talk you through all the options. Make sure you talk to them, and your designer or architect if you are using one, as their input will be invaluable in helping you make the right decision.
Below we have listed the 10 most popular floor tile patterns, so you can see some the possibilities.
The Straight Lay - sometimes known as a "Ladder pattern", this is the simplest pattern and is designed to showcase the stone at its best. It is the usual way of laying square tiles and its clean and simple look often works well in classic or contemporary settings. The image below shows 600x600mm white Thassos marble on the floor.

The Diagonal – here the tiles are laid at a 45 degree angle to the walls in the room and create a feeling of openness. This can work well with square tiles that are all the same stone and with a "straight lay" border around the edge.

The Brickbond Pattern – here the tiles are offset by half the width of the tile. It is sometimes called an offset pattern. As a variation, the tiles could be offset by a third or even by a random amount.

The Checkerboard – a really recognisable pattern for marble tiles, here the tiles are alternated to create the pattern. Can be laid straight or on a diagonal.

The Dotted Diagonal – (also known as Cabouchon Inserts). The tiles are trimmed to accommodate a smaller insert tile. The insert tiles are usually of a contrasting colour, as in the photo below, but consider also using texture to create a difference. These can be laid on the diagonal or straight. If laid on the diagonal, it is quite effective to enclose them in a border of contrasting tiles.

The Hopscotch – also known as the Pinwheel, here a smaller tile is surrounded by 4 larger tiles to create the effect. Use a small contrasting tile in with much larger tiles to get the best effect.

The Basketweave – a classic pattern using square and rectangular tiles to create a woven pattern. Choose a long thin tile and a contrasting small square tile to get the best effect with this pattern.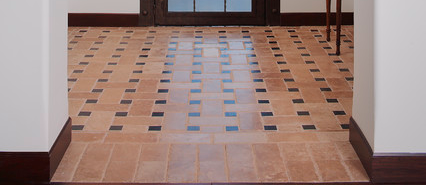 The Opus Pattern – here several different sized tiles are used to create a repeating pattern. The most popular pattern uses 4 different tiles sizes but there are several variations of this pattern available. This is very popular in rooms where a more traditional effect is wanted. Most effectively used with a tumbled or antiqued tile.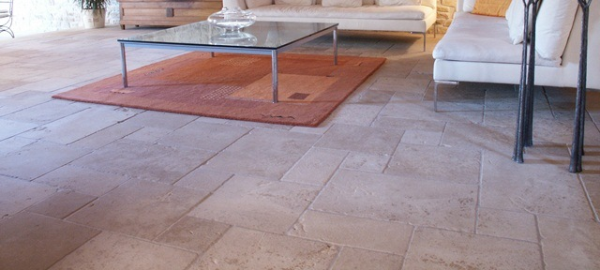 The Herringbone – a busy yet sophisticated design that gives a feeling of direction to a room. Very popular for long thin tiles used in rectangular rooms.

Bespoke – not so much a regular pattern, more an elegant design to your own choosing. By using sophisticated water-jet stone cutters and the careful choice of limestone or marble, you can have your own design transformed into the most elaborate (or simple), personalised floor (or wall) covering.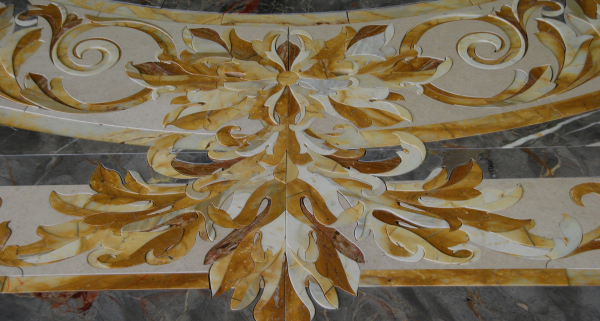 Thanks to Houzz for some of the images above.
As you can see, there is an opportunity to create art in the floor of your home with elegant marble tiles. The shapes, size, and colour of the floor tiles you choose is key to creating these patterns so it's important to seek advice before choosing.
Visitors to our stand at the design shows often have questions on choosing and using natural stone. In response, I put together a "resources" page on our web site where they can find the answers.
You may also have similar questions. If so, please click the button below and get the answers that others found useful:
Did you find this useful or interesting? Then join our mailing list and get a copy of the next blog direct to your email inbox.
We don't do a hard sell and promise not to bombard you with an overload of emails. Just enter your email address into the box at the top of this page (or bottom if you are reading it on your mobile) and you will automatically get the next article.
You can duck out at any time, there's no pressure.
Are there any aspects of using, choosing or maintaining natural stone that you would like us to cover? Tell us by adding your comment to the box below. We are here to help and love getting your feedback.
Thanks for reading.
Steve Turner
0345 260 8070
Amarestone