Good News: French Limestone back on the agenda
We recently had some excellent news from our friends in France. They have now restructured and we can once again source the widest range of top quality French limestone and marble for tiles, slabs, six-sides-sawn blocks and bespoke pieces. Our extensive range and knowledge of French stone makes us the UK's leading supplier of French limestone.
The range includes many of the world renowned Burgundy limestones as well as a few new ones from quarries in Paris and the South West regions that were not previously on our list. Please see our French Limestone page to get an idea of our expanded range.
This is such good news and we have been meeting with the owners and export managers to re-establish our network throughout France.
Steve.
Article from November 2013:-
French Limestone quarry ceases trading.
We had the sad news this week that one of our suppliers, one of the significant limestone companies in France, has ceased trading. La Pierre De France, owner of over 70 different limestone and marble quarries throughout France, announced the news earlier this week after a short spell in administration.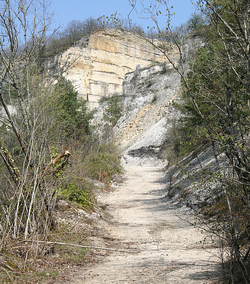 A number of our friends at the quarries in France have been affected and our thoughts are with them as their jobs are lost and they are facing an uncertain Christmas.
Efforts are being made to find buyers for the quarries and we understand that the bulk of them will resume operations in the near future.
We were made aware of the difficulties a short time ago and since hearing the news, we have held back on showing samples of the limestones and marbles that could be affected.
The effect of the closures, from our point of view here at Amarestone, means that there could be potential disruptions to the supply of some of the types of stone. However, none of our current orders or prospects are affected as these are all with other quarries in France (and elsewhere in Europe).
Our contacts at the marble and limestone quarries in France are keeping us updated on the situation and we are hopeful that all of the quarries that we deal with will be back up and running soon, albeit with new owners.
To put this news into context, we deal with dozens of other quarries throughout France that are owned by lots of different companies so, although this does temporarily limit our choice of French stone, we still have plenty of other options to show you.
I'm looking forward to meeting the new owners and also to refreshing acquaintances with old friends in France so that we can increase our offering to the UK architects, designers and private customers.
If you are interested in using French limestone in your own projects, please call me on 0345 260 8070 or click the link below to download our brochure: