A case study: Sourcing old Italian marble.
A little while ago, we were approached by a private client whose Victorian house had an old black and white marble floor that was in need of some careful restoration, cleaning and re-sealing. In addition, the customer wanted to find some matching marble floor tiles for a new conservatory extension.
The common marbles used to create a black and white chequerboard effect are often Italian Carrara marble and Spanish Nero Marquina. However, this one was slightly different.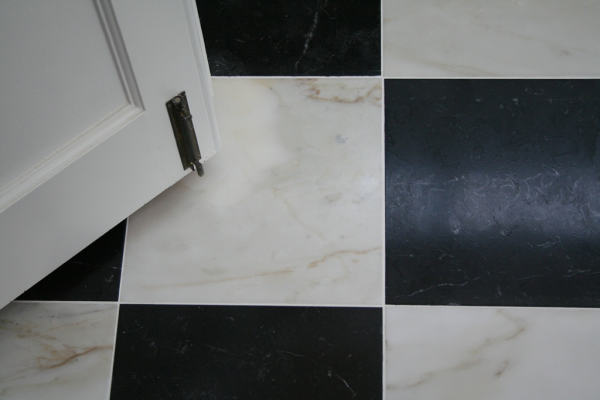 It wasn't just a question of going back to the original supplier as the old floor had been down for over 100 years and it was going to be a challenge to restore it and to find the quarries that produced the original marble tiles.

The requirements were as follows:
To renovate an antique Victorian black and white marble floor

and steps in a wine storage room.

Identify and source additional black and white marble tiles to

match the existing for a new conservatory.

Install and seal the new flooring so that it is protected against

possible staining from red wine.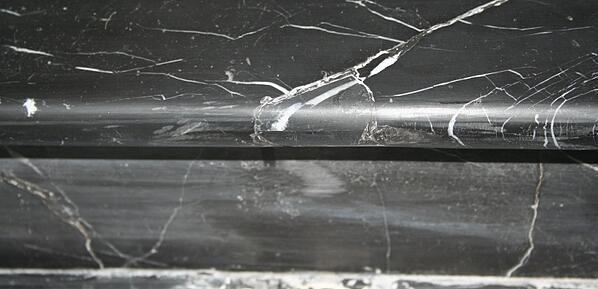 This image shows how a marble chip was cut and fitted into a broken part of the step. The chip had to have a white vein in the right place to make it blend in to the old marble. Now, it just had to be resin filled and polished to complete the repair.
Solution:
From our experience, the existing white marble floor tiles appeared to be marble from the Carrara region of northern Italy so we sent photos to one of

our trusted Italian quarries. The black marble was quickly recognised as a stone from Spain.

Our friends in Italy identified the white marble as a now rare form of Calacatta from Italy. This marble had not been quarried for decades but they knew where we could could get a block.

After sourcing a block of the

Calacatta, we asked the quarry to produce both sets of marble tiles so that we could be assured of an even

size and degree of honing across the new floor. They also made some larger pieces that we cut as full width t

hresholds for the doorways.

Our experts (father and son team of John and Ben Montgomery) renovated the 100 year old floor and steps by repairing chips and cracks so that they became virtually

invisible. They then cleaned and re-polished the floor to bring back the lustre that a hundred years of wear had

dulled.

After installation, the new floor was sealed with Fila Fob to provide protection against water-based and oil-based

stains (including red wine) and finished with Fila Classic Wax to give a similar degree of lustre to the old

floor.

The challenge had been met and the results were impressive.
Testimonial:
"Now that John Montgomery has finished laying the marble floor in our conservatory and repairing our marble floored wine room, I feel I must let you know how impressed I have been with your professionalism from the day I contacted you through to the completion of the job. As requested, you have matched the new marble in our conservatory to the antique marble in our wine room so closely that it is impossible to tell the difference.

Your estimates of timings were always adhered to and your advice and friendly manner were greatly appreciated. John's workmanship was second to none and he was always polite, punctual and tidy. It is so rare in this day and age to receive this level of service and civility.

Once again, thank you for your service."
David Jennings, Chesham Bois, Bucks
If you would like to know more, please visit our Resources Page where you can download lots of other useful information including hints and tips on Cleaning and Maintenance of natural stone:

Thanks for reading.
Steve Turner
0345 260 8070
P.S. - get the next blog direct to your inbox by entering your email address in the box on this page.