Choosing Swimming Pool surrounds
One of the key requirements for the surface finish for a swimming pool surround is slip-resistance.
But that doesn't mean that you have to choose a textured porcelain tile. There are lots of ways that a beautiful natural stone surface can be textured to give you the finish that you need to feel safe when walking (or running) around the edge of the pool. This goes for whether your pool is inside or outside.
Bush-hammered Limestone
The first image here is of a French Limestone, Vallangis, which has been bush-hammered and brushed. The bush-hammering is a process that creates quite a rough texture to the surface of the stone and then the brushing action smooths it slightly to make it a pleasant surface to walk on.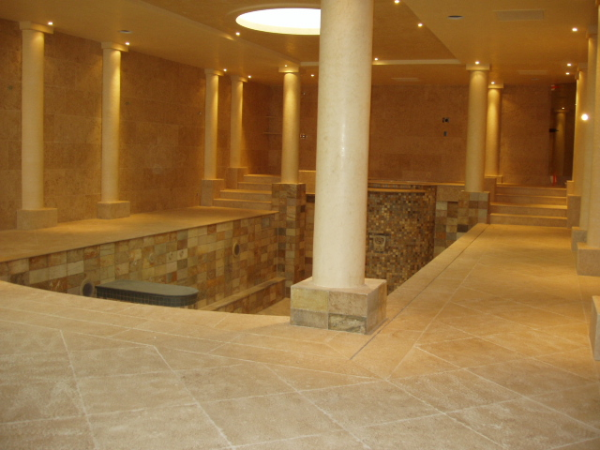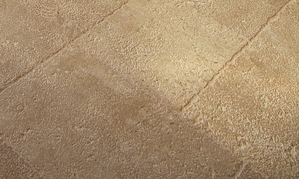 The image on the left shows a close-up of the textured surface of the Vallangis above after bush-hammering and brushing the limestone.
This is a common method of creating a more slip-resistant surface on limestone pool surrounds.
But it's not the only way of giving you the surface texture that will make it safe to walk on. There are lots of others. Each gives a slightly different look and feel and there may be one option that suits your particular choice of limestone, marble or slate better than others.
Sandblasted Marble Pool Surround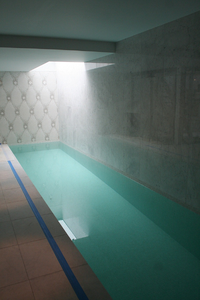 The next image is of an Italian Carrara marble pool surround in the basement of a London Victorian house. In this project, the customer wanted to use a polished Carrara tile on the main walls with a very detailed pattern of mosaics on the end wall.
The floor tiles had to be non-slip as the client had small children but the floor had to be in keeping with the wall tiles to maintain the look that the designer had created for the area.
To achieve this, we sandblasted the Carrara marble tiles and pool copings prior to installation.
The sandblasting technique also worked well on the patio where we installed 40mm thick sandblasted Italian Carrara marble slabs on Buzon pedestals.
Antiqued or Tumbled Marble and Limestone
One further option is to tumble or antique the tiles to create a slip-resistant surface. The image below uses the same Vallangis limestone that was used in the swimming pool at the top this page but the tiles have been given an "antique" finish. Again, this works well for limestone and some marbles.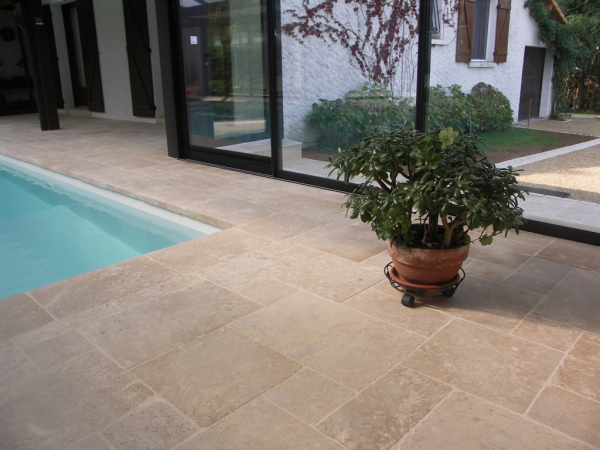 Acid-etched Marble Pool Copings
A process that we have used very successfully on marble is acid-etching. One of our Italian quarries does this particularly well. It creates a surface texture that is similar to the look and feel and the flamed and brushed process. It works really well where bush-hammering might open up the pores of the stone too much. The surface stays solid and seals really well and is therefore easy to maintain. This is great for shower enclosures or wet rooms where cleaning might take place a little more regularly.
Acid-etched Limestone Pool Tiles and Copings

We used another acid-etching technique recently on a hard Spanish limestone. We treated the honed surface with a buffered acid (one that does not produce harmful fumes). The great thing about this process was that it made the stone evidently less slippery when wet and yet kept the smooth appearance and feel of the stone when dry.
Flamed Marble and Limestone
Flaming is another option. In this process, the limestone or marble is heated with an oxy-acetylene flame and then immediately cooled with a jet of water. This fractures the surface of the stone and creates a rough, highly slip-resistant finish. The Villebois French limestone surround to the pool in the image below was treated in this way.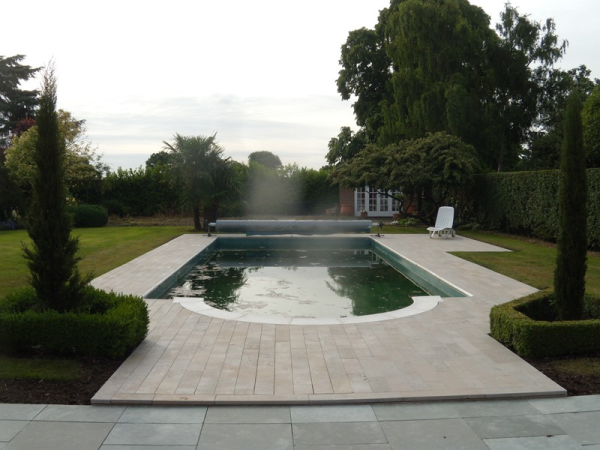 Not all the techniques work for all types of stone in all environments but we can always find something that will be effective.
In this article, I wanted to let you know that there are lots of choices for creating the texture that will be safe around a swimming pool or in other wet areas (such as a shower enclosure, for example).
Have I succeeded? Let me know - it's always good to get feedback.
If you are considering a swimming pool project and looking to find out what your options are, give me a call. I'll be happy to talk it through with you without obligation.
Our brochure will explain more about how we work and how we can help your natural stone project be successful.
Thanks for reading.
Steve Turner
Amarestone
Tel: 0345 260 8070
P.S. - get the next blog direct to your inbox by entering your email address in the box on this page.