Italian Marble - then and now
Italy is generally renowned as the world leader for stylish design and for the quality of its products. I think that some of the credit for this reputation can be attributed to Italian marble. It has long been considered that the Italians produce the world's finest marble.
Italian Marble in History:
Italian marble was used to build and decorate many of the most significant buildings in ancient Rome such as the Pantheon, the Coliseum and the Temples of Apollo and Jupiter. Early in the 16th century, Michelangelo created his sculpture of David using Carrara marble and later, in the 18th century, Salvi designed the Trevi Fountains which were built from Italian travertine and Carrara marble. Clearly, it has a very long and distinguished history.

Trevi Fountains carved from Carrara Marble
Modern Day Use of Italian Marble:
Nowadays in the 21st century, interior designers and architects are still specifying Italian marble for use as flooring, wall cladding and as bespoke pieces for impressive, prestigious projects. Carrara marble works well as floor tiles and equally well when made into basins, baths, worktops or even as an ornately carved retail desk - below. This particular desk was created by our friends Rene and Franck in their workshop in France.
The more heavily veined Calacatta and Statuary marbles are most impressive when installed as bookmatched slabs on a feature wall.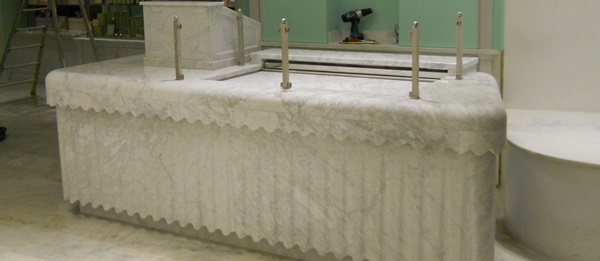 Bespoke retail desk from sculpted Italian Carrara marble.
Premium Range:
At Amarestone, we source top quality Italian marble directly from tried and trusted quarries, mostly in the Carrara region of northern Tuscany in Italy. The white marble range includes different types of Carrara and a variety of different Calacatta, Statuary and Arabescato marbles. There is also a beautiful selection of cream and beige coloured Botticino marbles from the Lombardy region.
Each of these names covers a family of marbles. For example, did you know that there are several types of Carrara - each with different degrees of veining, some greyer and some lighter than others. There is also a myriad of different Calacattas; Michelangelo, Borghini, Fontanili, Oro (Gold) and many others. Each of them has slightly different characteristics and it is always better to see the individual slabs before deciding which ones to use.
But please do not confuse these with the Turkish and Chinese marbles that are marketed under the same names, they are not the same.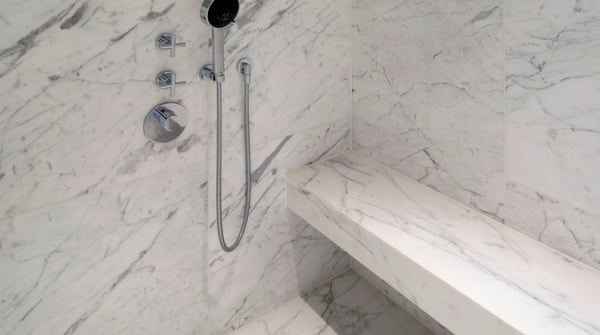 Italian Statuario Venato marble shower enclosure - polished on the walls, honed on the bench and acid-etched on the shower tray.
Rare and Exotic Range:
In addition to these world-famous marbles, we have access to a select range of exotic and rare marbles that cannot be seen elsewhere in the UK. As an example, these rarities include some slabs left over from a block that was used in a refurbishment at the Vatican, the last few slabs from various exhausted quarries and even a small block of marble that was recovered from a quarry that was documented to have closed down over 2000 years ago. It would make a truly fabulous feature piece - perhaps a basin or a small sculpture?
So, for something really special to make your project stand out from the crowd, there will be an Italian marble that fits the bill. Click here to find out more about our rare and exotic marbles.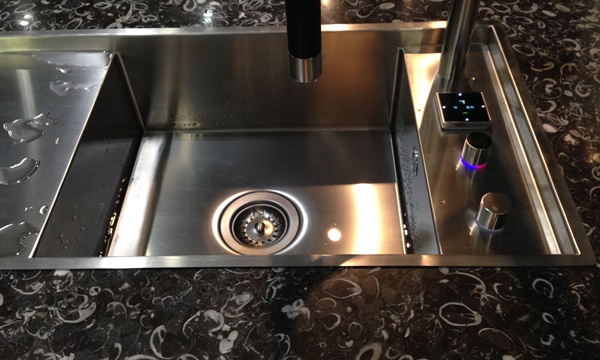 A rare marble, Occhio Di Pavone, supplied to Dornbracht UK for their display at the May Design Series
See our other blogs on Italian marble:
If you have a special project in mind and would like to discuss the different options or perhaps get some design ideas, please get in touch either by email or phone (my contact details are below).
Our brochure explains more about how we work and how we can help your natural stone project be successful.
Thanks for reading.
Steve Turner
Amarestone
Tel: 0345 260 8070
Email: steve@amarestone.com
P.S. - get the next blog direct to your inbox by entering your email address in the box on this page.