Using Natural Stone in small spaces:
With space at an all-time premium in the capital, many of us are looking for ways to get more from our existing homes without upsizing. Improvements can also add significant value to your property, especially when carefully planned to make the most of the space.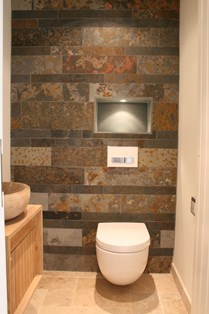 At Amarestone, we are often asked for advice on using natural stone in smaller rooms to maximise the functionality and feeling of space. Typically, downstairs cloakrooms, ensuite shower rooms and narrow hallways are highlighted as difficult areas.
There are a number of ways that you can enhance these spaces, take a look at the following examples for some ideas…
1) Take inspiration from the East.
Homes in Japan are well known for being tiny but there is an emerging trend among architects for taking traditional features and using them to enhance modern living. E.g. sliding translucent doors allow light to permeate throughout the home without taking up valuable room space.
Traditionally these would have been fragile wooden framed paper screens called shōji, but you could use any combination of materials that work with your interior.
Paired with a natural stone that is uniform in colour, such as the Italian sandstone Pietra Serena or the Spanish Azul Bateig, translucent sliding doors could be used to create the feel of open plan living space without actually knocking down walls.
2) Simplify surfaces.
Counter intuitive though it may seem; using extra large floor tiles can make a small space feel larger. For the best effect, try to match the size of the tiles to the dimensions of the room – for example, in a narrow hallway, choose tiles that are the full width to avoid grout lines that visually divide the space.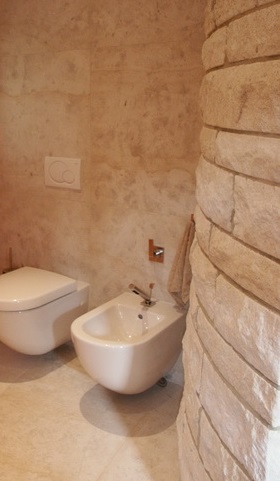 Go one step further and clad a small space entirely in one material. The patterns and fossils in French limestone work well by adding interest and you will see something different every time you enter the space. I also love the idea of a walk-in shower enclosure lined in floor-to-ceiling slabs of limestone such as the dark and evocative Portuguese Azul Valverde. For a totally seamless finish, keep the shower fittings simple and hide the drain under another piece of the same stone.
3) The power of one.
Small spaces can work extremely well as the backdrop to highlight one particular feature. Select a colour that contrasts with your chosen feature and apply it to the whole room.
This can also be a cost effective way to use rare or antique marble, onyx or limestone in your home. Amarestone clients have access to an exclusive supply of rare and antique natural stones, many of which would make a stunning focal point in a small (or large) room.
Choosing one of these stones is like choosing fine art, it is very individual. The best way to choose is to visit our "Aladdin's cave" and browse the selection of rare and exotic marble, limestone and onyx.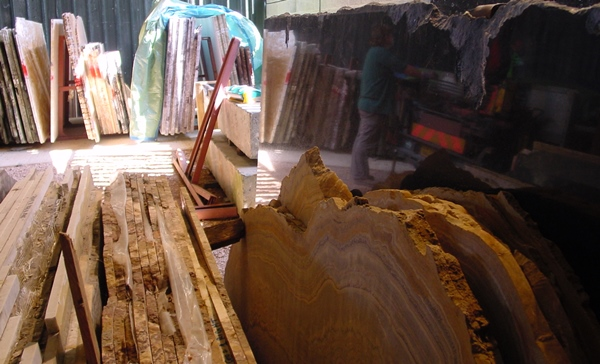 For advice on using natural stone in your home, speak to Steve or Denise at Amarestone.
So, if you have a project in mind and would like to discuss the different options or perhaps get some design ideas, please get in touch either by email or phone (my contact details are below).
Our brochure explains more about how we work and how we can help your natural stone project be successful.
Thanks for reading.
Steve Turner
Amarestone
Tel: 0345 260 8070
Email: steve@amarestone.com
P.S. - get the next blog direct to your inbox by entering your email address in the box on this page.