Inspiration from the Alhambra
Over the last few years, one prevailing trend in interior design has been mid century modernism. Vintage style furniture and geometric patterns have made a convincing comeback.

Classic examples of geometric patterns are the Victorian/Edwardian black and white 'chequerboard' floor and 'octagon and dot' design. Variations include beige and grey chequerboard with German limestone or cream coloured French limestone with black cabochons. You can be creative with the layout and stone choice to suit the space.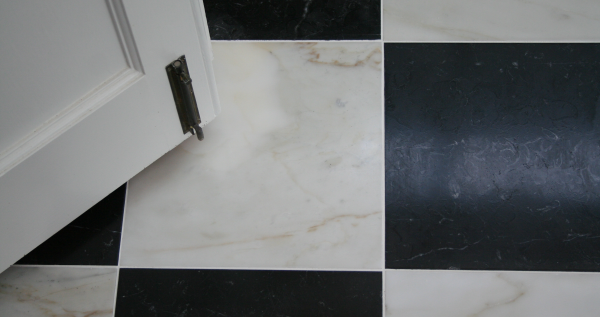 Looking forward to the year ahead, there are signs that we will see more influence from traditional Middle Eastern and Islamic design. Tadelakt, Moroccan polished lime plaster commonly used in hammams and bathrooms, is already gaining popularity in the UK.
A recent trip to southern Spain inspired me to revisit geometric patterns. More than just the brightly coloured prints that hark back to the 1960's and 70's, geometric patterns occur throughout history. The Alhambra Palace near Granada houses some spectacular examples of Islamic geometric patterns which are said to have inspired the work of M.C. Escher.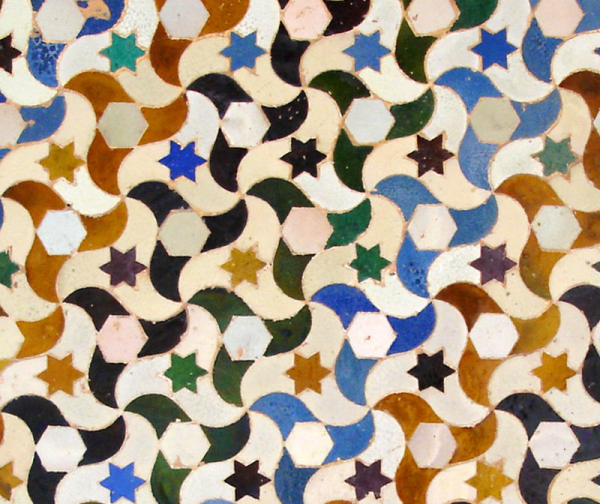 By Dmharvey (Own work) [GFDL (httpwww.gnu.orgcopyleftfdl.html), CC-BY-SA-3.0 (httpcreativecommons.orglicensesby-sa3.0) or CC-BY-SA-2.5-2.0-1.0 (httpcreativecommons.orglicensesby-sa2.5-2.0-1.0)], via Wikimedia Commons
We use specialist fabricators who have made significant investment in state of the art cutting technology and now have the capability to accurately reproduce almost any pattern in natural stone. The design is programmed directly into the water jet cutter which precision cuts the stone into pieces that slot together like a jigsaw puzzle. For more intricate designs, they can be supplied pre-assembled into 'modules' for ease of installation.
As you can probably guess, the possibilities for this kind of design are infinite.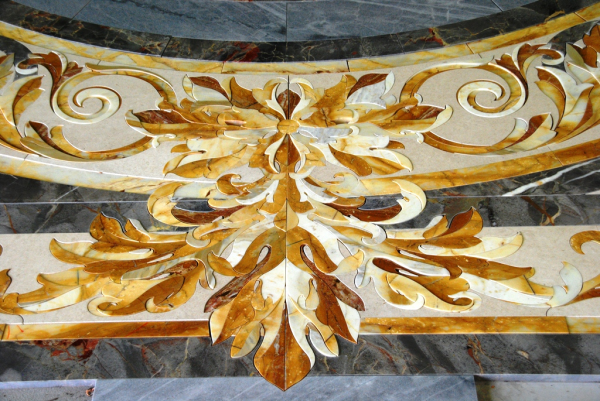 When designing bespoke mosaics for your project, it's important to consider the type of stone. It should be suitable for the space. For example, the stone used for mosaics on the walls of a shower enclosure have to be suitable for use in a wet area and the stone used for a floor motif in a hallway has to be hard enough to withstand the foot traffic. It's not just about the aesthetics. We are happy to advise you on this and can help you shortlist a selection of suitable materials.
You will also need to select stones that are available in your chosen colour palette. To create a monochrome look, you might choose marbles ranging from greyish white Italian Carrara through to jet black Spanish Nero Marquina. Alternatively, you may prefer to use just one colour marble for understated elegance.
For the pattern, tessellations such as the intricate motifs in the Alhambra, are especially striking. Some research into ancient patterns will undoubtedly provide inspiration.
If you have a design in mind, it is possible to commission a one-off pattern as large or as small as you like – perhaps as a series of personal motifs, logos or messages incorporated into the different rooms of your house?
For advice on how to successfully incorporate patterns in stone for your project, speak to Steve or Denise at Amarestone.
Our brochure explains more about how we work and how we can help your natural stone project be successful.
Thanks for reading.
Steve Turner
Amarestone
Tel: 0345 260 8070
Email: steve@amarestone.com
P.S. - get the next blog direct to your inbox by entering your email address in the box on this page.
Did you find this useful or interesting? Click the "Share" button and tell your network.