Following on from our earlier blog where we shed light on some of the myths about using natural stone, we address another 5 common misconceptions that we hear when we exhibit at the trade and design shows.
We hope that by understanding the truth behind these myths, you will be able to make a more informed decision about using natural stone in your project.
Myths about using stone:
1) It's OK to tile onto moisture resistant plaster board: NOT TRUE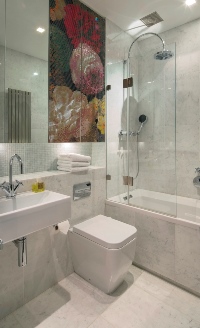 We hear this frequently when discussing the substrate for tiling bathrooms, wet rooms and shower enclosures. It is often wrongly assumed that the green plaster board is the correct product to use in bathrooms.
And yet, on the British Gypsum website, it specifically says, "Gyproc Moisture Resistant is unsuitable for use in areas subject to continuously damp or humid conditions and must not be used to isolate dampness."
In other words, moisture resistant plaster board or "green" board is not actually waterproof or even water resistant. The plaster board will deform and swell when it gets wet and this will result in tiles debonding and falling off the wall.
Using plasterboard in bathrooms is is one of the most common causes of failure that we hear about. The other thing to note is this problem can happen whether you use porcelain or ceramic tiles as well as natural stone.
But there's another reason that plasterboard of any sort should not be used in tiled areas - a paper faced board cannot take the weight of the average marble or limestone tile. See our blog on plasterboard which goes into more detail and says what should be used instead.
2) You can't use marble for kitchen worktops: NOT TRUE
The short answer is that you can indeed use marble or limestone for kitchen worktops. On the continent of Europe, they have been using marble for decades and in the UK it used to be quite commonplace. It is quite true that granite is generally harder than most marbles or limestones and I think this is why granites took over as the popular stone of choice for kitchen worktops in the UK.
It will be easier to keep granite in a pristine, "as new" condition whereas marbles and limestones could look more "lived in" after a period of hard use. However, many of our customers now are opting for marble simply because they prefer the look.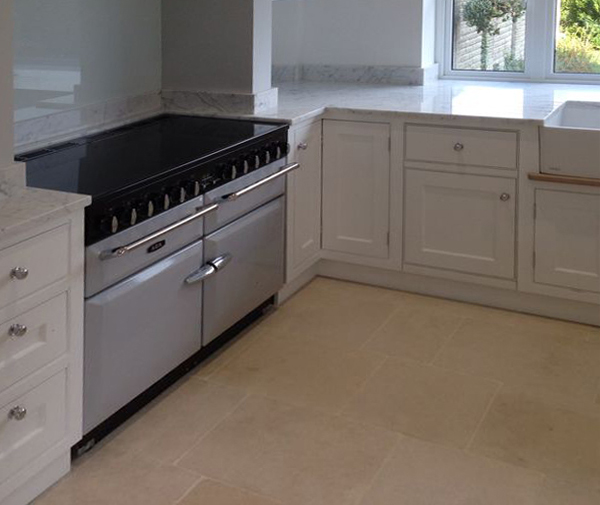 In my own house, we will be using a honed Carrara Italian marble to complement the French limestone floor, similar to the photo above. Naturally, I will ensure that it is well sealed with a top quality Fila sealer to help protect it.
3) Granite worktops don't have to be sealed: NOT TRUE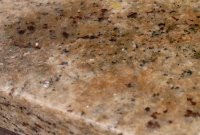 A little while ago, we supplied a stone floor to a customer who had just had a new kitchen installed with a granite worktop. The granite was one of the Indian granites with a mix of brown, black and yellow swirls. It looked lovely and complimented the oak kitchen units and the limestone floor really well.
However, there was a dark patch that had spread out from the area around the sink. This was caused by a water leak when the new taps were fitted. The dark area was where the water had been absorbed into the granite. Fortunately, the water dried out and no permanent damage was done but it highlighted how granite, like all other types of natural stone, is porous. If the water had been dirty or coloured in some way (e.g. tea or coffee), it is quite possible that the contaminant would have stayed within the stone and permanently discoloured the top. Once the worktop had dried out, we sealed it with Fila MP90 and the problem was eliminated.
Not all kitchen worktop installers recognise the need to seal stone worktops so it is worth checking with your supplier.
4) Limestone is too soft to use in bathrooms: NOT necessarily TRUE
Certainly, some limestones are softer and more porous than others. It is true that some can be more problematic to seal adequately in a wet area. Therefore, it does make sense to choose a stone that is better suited to the environment. But that doesn't mean that you cannot or should not use limestone in a bathroom.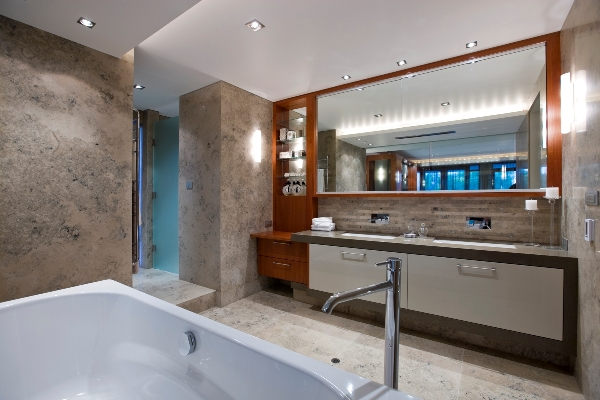 There are many limestones that are extremely dense, so much so that they could be mistaken for a marble. Crema Marfil is one such example but there are plenty of others. Above is an example of a Jura Grey limestone bathroom, another very hard limestone that is great in bathrooms.
This leads us on to the next myth:
5) All limestone is basically the same: NOT TRUE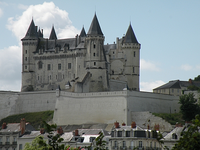 Geologically, all limestone is sedimentary rock but the hardness varies enormously. For example, Tuffeau from the Loire valley in France is a very soft limestone that is most often used as a building stone. The castle at Saumur in the Loire Valley was built from this stone - shown here. Many of the finest chateaux along the Loire were built from this cream coloured Tuffeau but I would say that it is far too soft to use as a flooring stone.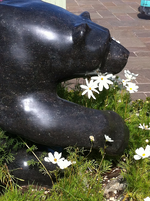 On the other hand, from Northern France or just over the border into Belgium comes the blue/black Soignie limestone (also known as Belgian Fossil, Belgian Blue or Belgian Black). This stone is superbly dense and would be excellent as a flooring stone or even as a table top. (This type of limestone was also used to carve the Bicester Village bears.)
The range of limestone is really very varied and there is almost certainly one that will be suitable for your particular project but it is important to understand the characteristics of the stone so that you can choose one that will perform adequately in your environment.
I hope that has helped to clear up a few misunderstandings.
If you are thinking of using natural stone in your project and want to know what's fact and what's fiction, speak to Steve or Denise at Amarestone.
Our brochure explains more about how we work and how we can help your natural stone project be successful.
Thanks for reading.
Steve Turner
Amarestone
Tel: 0345 260 8070
Email: steve@amarestone.com
P.S. - get the next blog direct to your inbox by entering your email address in the box on this page.
Did you find this useful or interesting? Click the "Share" button and tell your network.