A new Limestone Patio for Summer.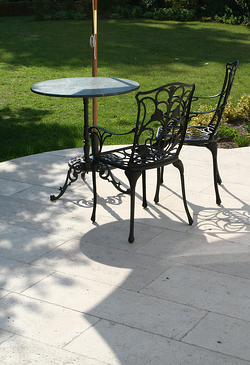 Believe it or not, if you want a new garden patio area in time for summer, now is the time to get planning. Read on for technical advice and a range of design ideas to help get your project started.
Choosing the right limestone
Selecting the right type of limestone that will last for decades and stay looking good can seem like a real headache for many customers.
For some clients, the process of choosing can take several weeks.
You would think it would be simple enough to choose the right colour but even that can be difficult. A very pale limestone in full sun can be glaring but a dark one can absorb heat and make it too hot to walk on when/if we get a few hot, sunny days.
In the winter, the problems can be worse - the stone has to able to survive heavy frosts and even very dense looking limestones can suffer.
But there are plenty of different limestones that will be suitable and it is just a question of understanding what you are looking for. This is where a good supplier is essential. Some of our other blogs should help to get you started.
To be confident of your decision, you will need to see samples of the selected stone in the finish that you will eventually use in your project. With some limestones, different surface finishes can dramatically alter the appearance. I.e. a more textured surface will usually appear lighter in colour, although this can be altered with a colour enhancing sealant.
Bear in mind that if you are looking for one of the more unusual surface finishes or limestones, we may have to order a sample from the quarry which can take a couple of weeks.
A Case Study
One of our recent projects was to supply Portuguese limestone for a garden patio in a beautiful house on the Surrey/Berkshire border.
Our client gave us the following brief:
- Seamless transition from indoor to outdoor living space
- Pale coloured limestone
- Uniform colouring for a contemporary feel
- Slip-resistant surface texture on the patio limestone
A Portuguese limestone was the obvious choice in this case for a number of reasons.
1) There are a variety of limestones from Portugal that are hard enough to be used externally. Genuine Portugese Moleanos is a good example but be aware that that there are several different limestones that are sold in the UK under the name of Moleanos but not all of them are suitable.
2) The Portuguese quarry that we work with will apply a range of different textures to their limestone which can be customized to suit the needs of the client precisely. The internal stone can be honed to keep it looking sleek and easy to maintain and the external stone can be lightly bush-hammered or sand-blasted to make it slip-resistant when it gets wet.
3) Portuguese limestones are known for their uniformity and make a great choice for achieving a contemporary feel.
After seeing large samples of half a dozen different pale cream limestones from the same region of Portugal, our client decided on Moleanos limestone for the whole kitchen area running right out into the garden. For the internal stone, she specified a honed finish (smooth but not polished) and externally she opted for a lightly bush hammered texture. The use of one material continuously throughout the internal and external area allows the eye to travel uninterrupted into the garden, giving a feeling of space.
Substrate construction
The next step was to specify the substrate for the new patio area. I mention this because the type of substrate will impact the thickness of the stone that should be fitted and there are a few options. The most common choices are:
1) Compacted hardcore
2) Concrete slab
3) Buzon Pedestals (other makes of pedestals are available)
Compacted Hardcore
Often the simplest and cheapest option can be to use compacted sharp sand on a hardcore base. It is easy to source unwanted rubble and all builders should be used to constructing a hardcore base. However, it is worth bearing in mind that you will need to lay thicker tiles if you are to reduce the risk of cracks appearing due to movement. Depending on the type of stone you could be looking at in excess of 40mm. You may find that the additional cost of the thicker stone outweighs any savings on the base in comparison to a concrete slab base. In this particular case, 30mm thick Moleanos was laid on a well compacted hardcore and sand base.
Concrete Slab
Probably the most common option is to pour a solid concrete slab. Definitely not the most environmentally friendly solution initially but, if it is installed correctly, a concrete slab should last for decades and it allows you to use thinner stone tiles. The main considerations for a concrete slab, apart from the cost, would be the drying time (typically 8 weeks as the concrete needs time to 'cure' and dry before the tiles are installed) and expansion joints in large areas (every 6-8 metres) to absorb any movement from the concrete as it expands and contracts in varying temperatures.
Pedestals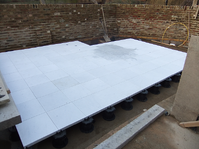 An alternative option is to use pedestals. These adjustable pillars are ideal for use in gardens that slope away from the house or where the terrain is uneven. They also come into their own if the patio is being fitted at a time of year when normal cement based adhesives cannot be used - e.g. when the temperature falls below 5 deg C. The height of each pillar can be individually adjusted to create a flat surface at the desired level. Our team of installers are experienced in laying natural stone tiles onto this type of construction. As this is a specialist job, it would be well worth asking to see examples of your chosen installer's work before committing to contract them.
Timescales
As I mentioned above, the selection process can often take several weeks to find the right type of stone with the right surface finish. In the case study above, we first took samples to the client in late August, the decision was finalised in early November and the stone was delivered mid December.
Once the decision has been made, it can then take four to six weeks to place the order with the quarry and for them to produce and package the stone. We then allow a further one to two weeks for the materials to be shipped back to our warehouse.
So, all in all, from the time that a client places their order with us, we usually need to allow six to eight weeks for the stone to arrive at its destination. Depending on the order complexity and the quarry supplying the material, this may take more or less time.
Your building contractor will be able to give you estimated timescales for building the patio base and for any additional preparatory work needed before the stone can be fixed. It is very important to allow sufficient time for any concrete to dry out before the stone is installed in order to minimise the risk of movement.
As you can see, the more time that is allowed between starting discussions and the deadline for the project the better!
Our brochure explains more about how we work and how we can help your natural stone project be successful.
Thanks for reading.
Steve Turner
Amarestone
Tel: 0345 260 8070
Email: steve@amarestone.com
P.S. - get the next blog direct to your inbox by entering your email address in the box on this page.
Did you find this useful or interesting? Click the "Share" button and tell your network.