Inspired By Natural Stone - Chelsea
We are currently working on a new video clip for Amarestone that shows a few of the things that inspire us as a company. Our work involves a degree of creative vision and it's an aspect of the business that all of us really enjoy.
One annual event that always delivers innovative and interesting ideas for outdoor spaces is the Chelsea Flower Show. Although I couldn't make it to the show this year because I was in the French Pyrenees on (a sort of) holiday working on organic farms (aka WOOFFing), there are plenty of design ideas to glean from the images and videos posted online after the show.
I have put together a shortlist of my own favourite gardens and features from the RHS Chelsea Flower Show 2015.
We would love to hear your thoughts on the show and if you have any ideas that you would like to share, please do post them in the comments section at the end. Thank you!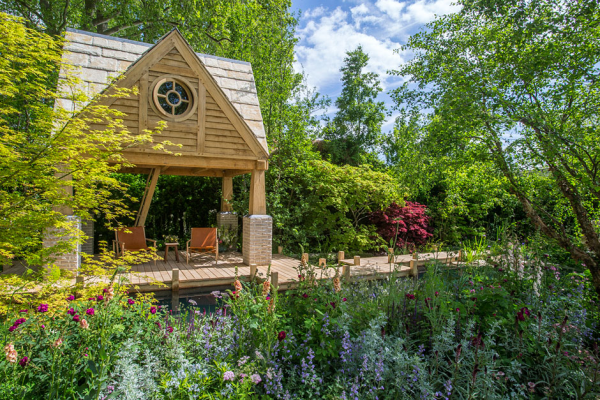 Key features: Natural swimming pond, writer's cabin/ studio, relaxed English country style planting, Purbeck stone hard landscaping
There is something romantic about the idea of a natural swimming pond and, with summer approaching, perhaps Jo Thompson's design will inspire a few of us to carve out space in our own gardens for a similar one. Jo suggests converting an existing conventional swimming pool into a natural one... The addition of aquatic plants to purify the water naturally and some rustic limestone paving around the edge may be all it would take!
Perfumer's Garden in Grasse, by James Basson, sponsored by L'Occitane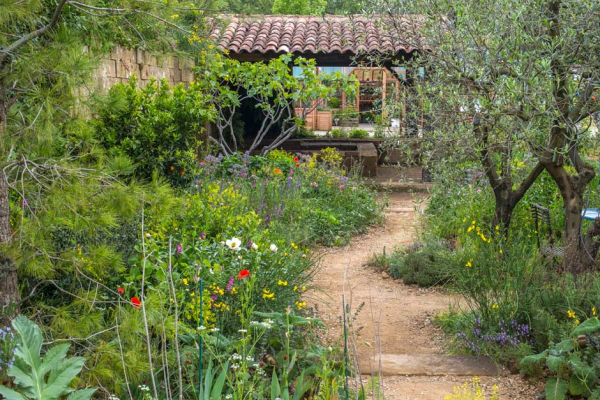 Key features: Depicting authentic Provencal landscape through planting, structural elements, water and the use of natural stone, in this case, volcanic Tufa
The authenticity of Basson's garden caught my attention because, as he put it himself, Chelsea gardens are so often 'Botox'ed! Tufa features throughout the garden as the base for the stream, the imposing garden wall and the meandering path. For me, this highlights how stone can be used to localise a garden and to lend it authenticity.
In areas where the natural stone bedrock is a feature of the landscape, Welsh slate in Snowdonia for example, it often seems right to use the same stone in the garden design.
The Brewin Dolphin Garden by Darren Hawkes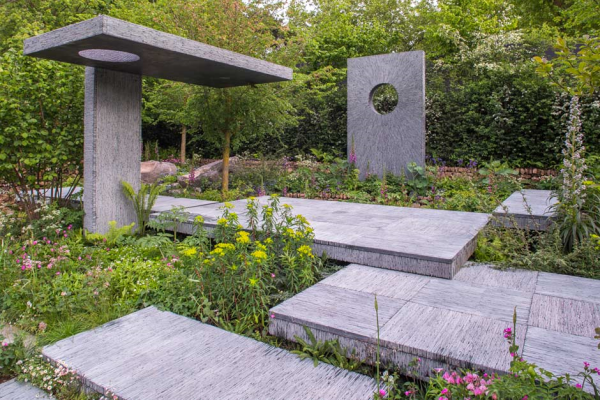 Key features: Slate sculptures and pathways made from thousands of roofing slates trimmed to size and fixed on end to create giant platforms
OK, so I'm not suggesting that we all spend hours sticking slivers of slate together for our own gardens, but I do think the combination of fine detail and large scale can be used effectively in a number of different ways. A similar look can be achieved with the Italian grey sandstone such as Pietra Serena that has been 'combed'.
Another recurring concept at Chelsea was the use of permeable surfaces in landscape gardening. Beneficial both for the environment as plants growing in the gaps provide habitat for wildlife, and for humans by improving drainage and helping to prevent flooding. Rather than always opting for one large paved area with planting confined to the borders, perhaps one way of achieving the permeable effect could be to incorporate a series of raised platforms that are surrounded by dense planting.
Personal Universe Garden by Fuminari Todaka and T's Garden Square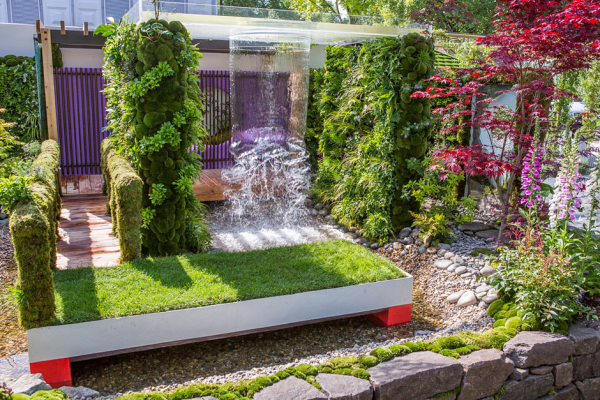 Key features: Circular waterfall garden feature, green walls covered in mosses and ferns
The circular waterfall is what initially caught my eye in the Personal Universe Garden. What a striking way to use water in the garden! The addition of green walls cloaked in moss and ferns really make this garden feel magical. I have to admit that I'm less keen on the raised box of lawn but the mossy rocks in the foreground of the photo do compensate!
The Laurent-Perrier Chatsworth Garden by Dan Pearson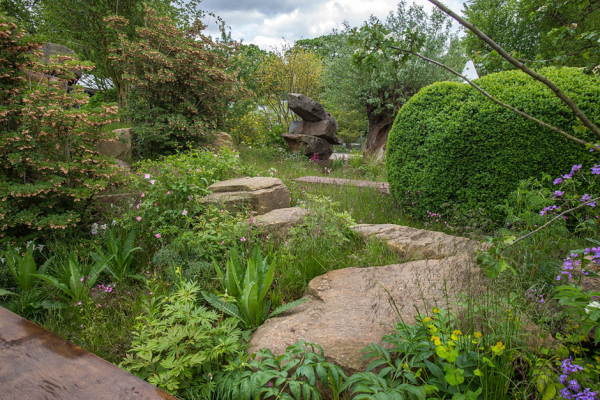 Key features: 

Large rocks from Chatsworth shape the garden and its central Trout Stream
The Chatsworth garden seems to incorporate all of the aspects that I liked about the other gardens into one space. Large rocks borrowed from Chatsworth create a rough pathway through the garden and the natural planting at ground level is contrasted with the formal clipped box. The only thing that's missing is a natural swimming pond!
If you would like to talk to us about your project or if you have any queries on using natural stone in your own project, whether inside or out, please feel free to contact us and we will be happy to help.
If you would like to know more about how we source natural stone for projects, please download our brochure:
Thanks for reading.
Katie Turner
Amarestone
Tel: 0345 260 8070
Email: katie@amarestone.com
P.S. - get the next blog direct to your inbox by entering your email address in the box on this page.
Did you find this useful or interesting? Click the "Share" button and tell your network.