French Limestone Supplies during the Covid-19 Outbreak
At lunch time today, the French government imposed a "lockdown" across the whole of France. This is intended to last for the next two weeks but may be extended depending on the circumstances.
An English version of the announcement was released a few moments ago and here it is reproduced from the French government web site:
---
On 16 March 2020, the President of the Republic decided measures to reduce contact and travel to the minimum throughout the whole of France, from 12PM on Tuesday 17 March 2020, for at least two weeks. Travel will be allowed, with proof, only to:
travel from home to work only if working at home is not possible;
shop for basic necessities in authorized local shops;
visit health professionals;
travel for childcare and to help vulnerable people - but only while strictly respecting advice on barrier measures;
take exercise, individually, close to home and with no gathering of people.
Any violation of these rules will be penalised.
Simple measures against coronavirus will help preserve your health and the health of those around you:
Stay at home
Wash your hands very often;
Cover your mouth and nose with your sleeve or with a tissue when you cough or sneeze;
Use single-use tissues, and then throw them away;
Do not shake hands or greet people with kisses on the cheek;
Hotlines
A toll-free hotline service (French only) can answer your questions about the Coronavirus COVID-19 non-stop, 24 hours a day, 7 days a week: 0 800 130 000 (from abroad: +33 800 130 000, depending on your operator).
---
I am in France at the moment working from our office in Normandy where the local people are remaining calm, although a little subdued and wondering what will happen next. The numbers of people going in to the shops at any one time are being restricted so that it is easier to minimise "social contact". There was an orderly queue outside the bakers this morning and then a 15 minute queue to get in to the supermarket. I think everyone wanted to beat the 12.00 deadline in the announcement. The chat in the queue is all about how bizarre the situation has become and how quickly it has developed.
From this afternoon onwards, we are confined to the house unless we fill in a government form to explain where we are going and the purpose of our trip just in case the gendarmes decide to ask.
The big question for us is, "What does it mean for our French limestone customers?"
Although the government announcement still permits individual businesses to continue trading, we are aware of many that have decided to close down for the period of the initial two weeks.
Some of our quarry partners will close from this evening while others are continuing to work for the time being. The situation is still not very clear and we are speaking to as many quarries as we can to understand the full picture.
From our point of view, we will continue to comply with the UK and EU advice but otherwise carry on as normally as possible.
Our office phone is currently diverted through to the answerphone while we are in France but we are picking up voicemail messages and can respond by phone or by email as quickly as required.
---
UPDATE: August 3rd 2020:
We are now back in the UK after our unexpectedly long stay in France. The quarries are now back to normal. In France, like most of southern Europe, normal in August means that they are closed for their usual August summer holiday. Apart from that, they are now working normally and are generally busier than ever.
At the moment, we are working from home but can meet customers at our showroom by appointment where hand gels and social distancing are in place.
Call 0345 260 8070 to make an appointment.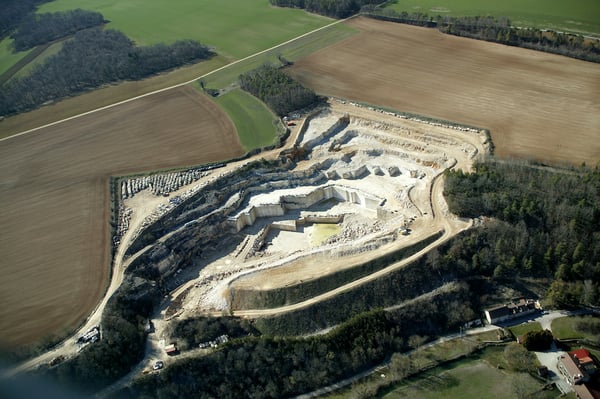 --------------------------------------------------------------------------------------------------------------------------
If you have any other questions or need expert help with your natural stone project, please call us on 0345 260 80 70 or email steve@amarestone.com.

Stay safe.
Steve Turner
Amarestone
Tel: 0345 260 8070
P.S. - get the next blog direct to your inbox by entering your email address in the box on this page.