French Limestone Supplies back to normal
It has been an "interesting" two or three years to put it mildly. First of all, there was the self-inflicted madness of Brexit which brought uncertainty and havoc to the supply chains. On top of that, came the disruption and tragedies of the Covid pandemic. And there's more...
Mercifully, the severity of the pandemic appears to be on the wane but that seems almost insignificant now compared to the horrendous events on the eastern edge of Europe. Our thoughts are with the people of Ukraine.
For us, the first two pandemic lockdown periods were spent in France. Our return ferry crossing was re-arranged and then cancelled time and time again. We finally managed to get back home to the UK in time for the mandatory quarantine two weeks before Christmas but then family Christmases were cancelled anyway!
Our time in France was productive, not all of it work related although we did manage to get the web site updated. Have a look at the new French limestone page as an example. Our main aim was to simplify the site navigation. You can let us know what you think if you like.
Most of the time was taken up renovating and decorating. I even rebuilt a 200 year old staircase. That was fun and daunting at the same time.
Towards the end of our stay as travel restrictions were lifted, we did get down to visit a couple of our regular quarries and pick up some fresh samples. The Lavoux has been particularly popular and I've just had to order more samples.
Production in all the quarries is now pretty much back to normal after some staff shortages mostly due to Covid self isolation.
We are still experiencing some delays with shipping because of the extra customs administration but we are coping and finding ways around the problems. We have some really experienced haulage agents to help us.
Our customers have been wonderfully patient throughout and I'm very grateful to all of you for that.
Thank you.
---
Friday 3rd April 2020 - UPDATE
We are still in France and working in isolation from our home office in Normandy where we have a view out onto the local square. Life here in the village appears to have settled in to a routine. We can see an occasional queue outside the pharmacy on the opposite side of the square is well spaced out. The bulk of the traffic going past the front door is made up of the usual tractors from the dairy farms. One or two local neighbours walk down the road to get their bread. Everyone is sticking to the rules and keeping their distance. The local baker at the bottom end of the Abbey square is quite rightly listed as one of the essential businesses in France. They are allowed to remain open to customers. There would be riots if the boulangeries had to shut down.
So village life is operating as normally as it can within the constraints but what about the quarry business? What is happening in the French limestone industry?
Although the latest French government announcement still permits individual businesses to continue trading, there are some that decided to close down for the period of the confinement.
Some of our quarry partners closed a couple of weeks ago while others continued to work. We are now aware of a couple of companies that had closed but are planning to reopen either next week or after Easter. They are all following the French government guidelines on "social distancing" to minimise the risks to their staff. It does mean that we can speak to them, get answers to customer queries and even pass orders on to them.
Customers are being kept away from the premises which has meant that we are still not able to visit the quarries or factories that we originally came out here to see but we can communicate with them by phone and email.
From our point of view, we will continue to comply with the UK and EU advice but otherwise carry on as normally as possible.
Our office phone is currently diverted through to the answerphone while we are in France but we are picking up voicemail messages and can respond by phone or by email as quickly as required.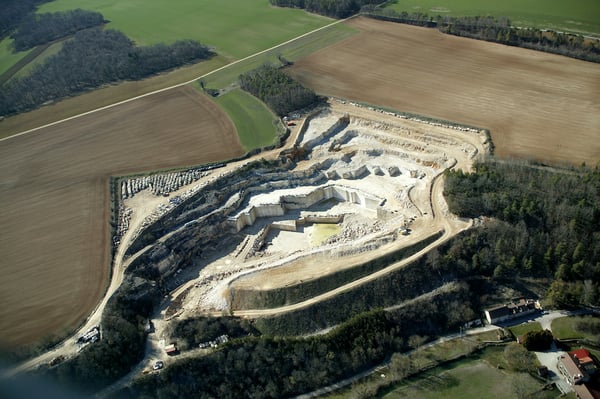 --------------------------------------------------------------------------------------------------------------------------
If you have any other questions or need expert help with your natural stone project, please click the "chat" icon on this page, call us on 0345 260 80 70 or email steve@amarestone.com.

Stay safe.
Steve Turner
Amarestone
Tel: 0345 260 8070
P.S. - get the next blog direct to your inbox by entering your email address in the box on this page.