Natural Stone for your holiday home in Europe
Over the last year we have seen an increase in English speaking customers looking for natural stone for their properties across Europe.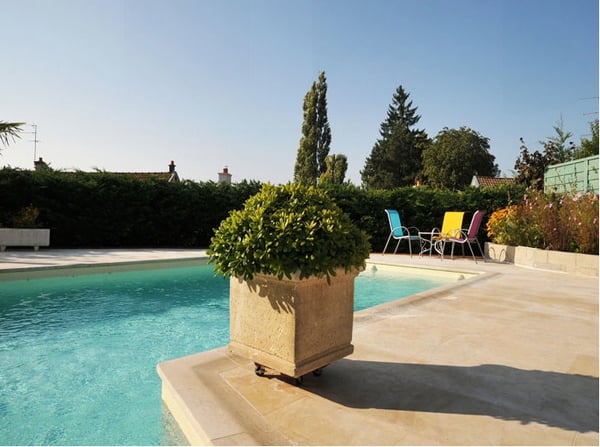 Because we rank highly on Google for the search term of "French Limestone", most of the enquiries are for that type of limestone. But we also crop up when searching for other types of natural stone. We handle a growing number of enquiries from UK expats in France but also from English speakers around other parts of the world.
Over the course of the last year, we have delivered Portuguese marble to a private chateau in central France and French limestone to a holiday ski lodge in the USA. Plus, we have a growing number of private clients with holiday homes all over France who chose to buy their French limestone from us rather than go to their local French supplier. Our French limestone can now be seen in holiday homes in the south, central and northern France. These customers were generally native English speakers and they came to us for a variety of different reasons.
For most people, going to buy natural stone direct from the quarry's factory can be an intimidating experience. They may have to make sense of technical terms that would be difficult enough in English, let alone in a foreign language.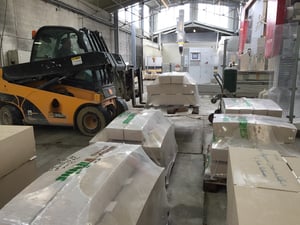 But also, the quarries are quite used to dealing with stone trade customers but they don't always have the resources to welcome private customers. It can be a time consuming process to conclude a deal with a private customer who is not familiar with the multitude of options and the technical considerations. It is far simpler to receive an order from a trade customer who places the order for a particular stone that is to be cut and finished to a specification that the quarries understand. For native English speakers, it is easier to have a detailed conversation in English.
Another aspect is that is more convenient to view a range of samples from several quarries all in one place in order to choose which stone to use. Many of the quarries have small showrooms for their trade customers but they will probably only have a limited range of stone on show. Naturally, they will feature their own stone but are unlikely to promote stone from neighbouring or competing quarries.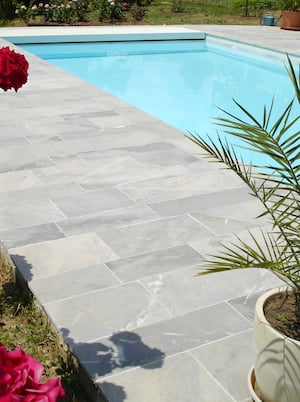 One of the key benefits that our customers appreciate is that we can deliver worldwide directly from the quarry's factory. It means that the stone does not have to be transported to the UK before being shipped out to the customer's location. Our haulage agent can take the stone from the factory yard directly to the customer premises. It minimises the cost of shipping, particularly for the customer choosing to buy stone from the same country as their project address.
The decision process for choosing the right stone is flexible but roughly follows the route of:
- a discussion by phone or email to work out the look and feel that the customer wants
- photos of completed projects and detailed scans of the stone to show detail
- a guide to the costs of the stone and the cost of shipping.
- followed up with small samples of the stone sent out by courier or post or
- a customer visit to our showroom to see larger samples or even an accompanied visit to the quarry and factory in question, particularly for the larger projects.
We keep samples of most European stone at our samples showroom in Arborfield, near Reading, Berkshire in the UK. You can view the following types:
French Limestone,
French Marble,
Portuguese Marble,
Portuguese Limestone,
Spanish Limestone,
Spanish Marble,
Spanish Slate,
Italian Marble,
Italian Limestone,
German Limestone,
not forgetting our range of English Limestone plus a range of Belgian limestone and marbles.
If you would like to discuss a natural stone project for your holiday home, please call, email or leave a message on the form on this page.
If you have any other questions or need expert help with your natural stone project, please call us on 0345 260 80 70 or email steve@amarestone.com.

Thanks for reading.
Steve Turner
Amarestone
Tel: 0345 260 8070
P.S. - get the next blog direct to your inbox by entering your email address in the box on this page.