---
Highlights of the Homebuilding and Renovating Show, NEC 2016:
At this year's HBR Show at the NEC, there were many of our old favourite exhibitors and a few new ones as well. Some of them were so innovative and creative that I'm certain our interior design and landscape design clients would love to know about them.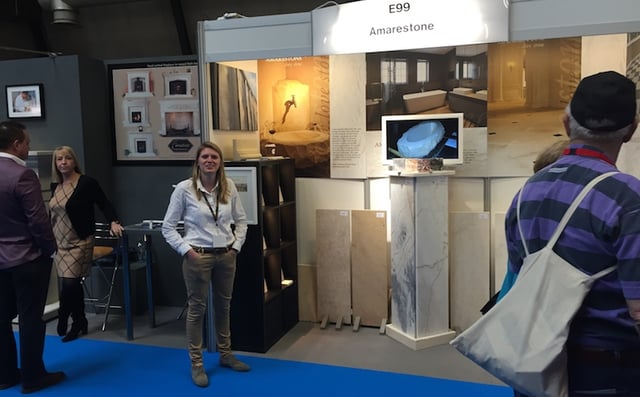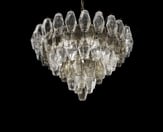 One of the newcomers to the show was the Italian Lighting Centre company. Carl Mallory, the MD, was on stand where he displayed some contemporary chandeliers made with hand-blown Murano glass that were really beautiful. For me, this was the design highlight of the show. I'm certain that many of our interior designers and private clients would love to know about this fabulous lighting. You can see for yourself on their Facebook page: Italian Lighting Centre or visit the web site: http://www.italian-lighting-centre.co.uk.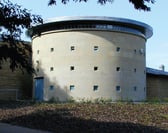 Also new to the show was a fellow member of the Stone Federation of GB, the English Johnsons Wellfield quarry from Crosland Hill. They were showing their world-famous Yorkstone landscaping and building stone. The Crosland Hill quarry produces genuine York stone which is a light buff coloured sandstone. Our landscape designer clients often ask about using natural stone and this is one of our native English options. It was great to see Michael Gorman and his team at the show and we are both looking forward to seeing an even stronger presence from Stone Fed members at next year's show.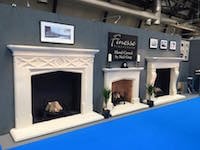 As ever, Neil Gray from Finesse Fireplaces was back at the NEC again. I think he has been there more times than we have. It's always fun being next to Neil and always inspiring seeing his latest fire surround designs. He is a true craftsman and I love that he carves the Bath limestone himself. We saw so many of his old customers coming to the stand and greeting him with genuine warmth. He really deserves his success. I've even ordered one of his fire surrounds for my own lounge at home. It should go beautifully with the French limestone flooring that is going to be installed shortly. You can see more of Neil's work on his Facebook page.
It was nice to meet up again with Mark Bond from Bald's Balm. Mark makes balms and waxes for restoring and feeding wooden furniture. He designed the products from natural ingredients, makes them himself and sells them at the exhibitions, through Lakeland and other high street stores and is now exporting to markets outside the UK. The growing success is a sure sign that the products work and it's great to see that the rest of the world is getting to know Mark and his balms and waxes. They would make a practical and thoughtful gift for interior designers to leave with their customers as a token of thanks. There's more info on the range of products on his website.
On our own stand, the French Limestone was the star of the show and generated a massive amount of interest which has already resulted in several large orders. Our Portuguese Rosa Aurora marble drew admiring looks and we had several enquiries for creating elegant bathrooms. The small display of sculpted Italian limestone was also a talking point and resulted in an interesting enquiry for two large blocks that can be carved.
*************************************
If you get in touch with any of our friends above, I would be very grateful if you mention that you saw them in our blog. Thank you.
If you are planning a natural stone project and would like to discuss some ideas, give us a call or get in touch by email (my contact details are below).
Our brochure explains how we work and how we can help your natural stone project be successful.
Thanks for reading.
Steve Turner
Amarestone
Tel: 0345 260 8070
Email: steve@amarestone.com
P.S. - get the next blog direct to your inbox by entering your email address in the box on this page.
---