French Limestone delivered to client holiday home
If you're looking for the ideal natural stone but your project is in a foreign land, don't worry. You can choose from Europe's best limestone and marble quarries and have it delivered to anywhere in the world. Here's how:
Some years ago, we supplied natural stone kitchen flooring and bathroom tiles to one of our private customers in London.
They must have been pleased with the result because they came back again last year. This time, they wanted a limestone floor for their beautiful old manor house in Normandy in northern France.
From an environmental point of view, it made sense for them to use a French limestone to minimise the number of kilometres the material had to travel. But which French limestone? There are hundreds to choose from and they each have their own characteristics.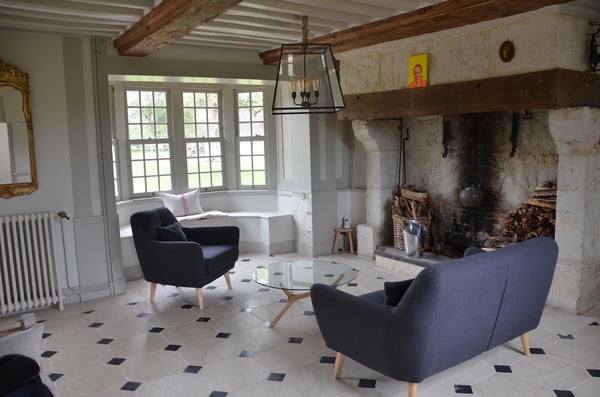 The house is a traditional, old Norman house with small windows that had been quite dark inside. Emilie and Henryk wanted to maximise the light with a pale stone floor that would be hard-wearing and still in keeping with the look of an elegant manor house.
(A huge thank you to Emilie and Henryk for sending the photos. I think they look terrific and I'm so pleased it worked out so well.)
From the dozens of samples that we showed them, they chose a Burgundy limestone from the Chamesson quarry in northern Burgundy.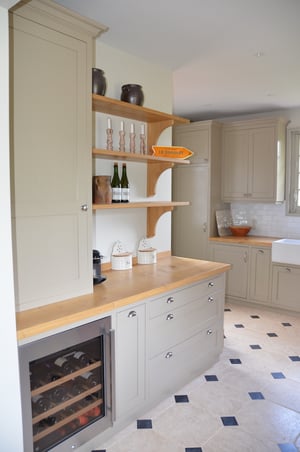 We used stone from the palest "bench" (layer) in the quarry. The tiles were lightly bush-hammered and then heavily brushed to give the look of a time-worn floor. As a further touch to suit the age of the house, cabochons of the dark Soignies limestone were fitted on every tile junction.
We can customise the degree of bush-hammering and brushing to get the exact look that suits the project.
There are several benches in this large quarry and all of them are hard wearing and make very high quality flooring stone.
Chamesson is a versatile stone and we have used it for a variety of different purposes.
Examples of previous projects include: display panels in airports across Europe for the international perfume retailer, Calvin Klein; a bespoke feature basin for one of the Nandos restaurants and flooring for a restaurant in Holland Park, London.
Current projects include external cladding for a new build in the Far East, flooring in Westminster Abbey, paving for a landscape designer in Spain and limestone panels to be water-jet cut for an impressive project in London.
It's one of France's premium limestones for flooring but has many other uses.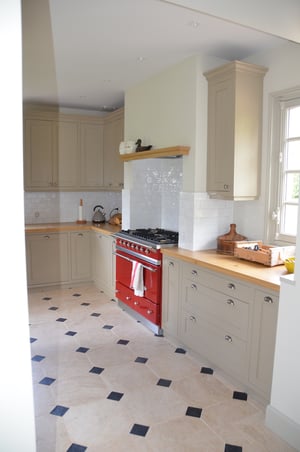 The decision process for choosing the right stone is flexible but roughly follows the route of:
a discussion by phone or email to work out the look and feel that the customer wants
photos of completed projects and detailed scans of the stone to show detail

a guide to the costs of the stone and the cost of shipping

followed up with small samples of the stone sent out by courier or post or

a customer visit to our showroom to see larger samples

or even an accompanied visit to the quarry and factory in question, particularly for the larger projects.
If you would like to discuss a natural stone project for your holiday home or overseas residence, please call, email or simply leave a message on the form on this page.
Alternatively, get in touch via the chat system at the bottom of this page. If I can't reply straight away. leave a message and an email address and I will get back to you as soon as I can.
If you have any other questions or need expert help with your natural stone project, please call us on 0345 260 80 70 or email steve@amarestone.com.

Thanks for reading and stay safe.
Steve Turner
Amarestone
Tel: 0345 260 8070
P.S. - get the next blog direct to your inbox by entering your email address in the box on this page.