Visit Amarestone at the London Surface Design Show 2017.
We are busy preparing for the Surface Design Show at the Business Design Centre in London which runs 7-9 February 2017.
Free to attend, this is a great show for Architects, Designers and other industry professionals to see the latest products and innovations in surface material and design. A key part of the show will be the specialist Stone Gallery where you will find us alongside the experts from the Stone Federation of Great Britain.
On Thursday, Steve will be giving a seminar on "The essential guide to substrate preparation and installation of natural stone" in the new Stone Hub which will be taking over the CPD Hub for the day.
Professionals in the design trade can register for complimentary tickets by clicking the image below.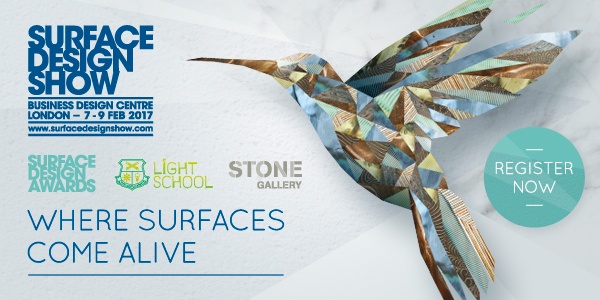 Look our for Amarestone on stand P3 in the Stone Gallery. We'll look forward to meeting you there.
Check back on our blog after the show for a summary of our presentation.
If you are planning to come to the show and would like to see some specific examples of natural stone, please let us know by filling in the comments form below. We will do our best to take the right samples for you to inspect.
*********************************
If you would like to know more about Amarestone, please download our brochure which explains how we work and how we can help your natural stone project be successful.

Sign up for our blog to get a summary of the "Essential Guide" seminar and to get future blogs sent directly to your inbox. You can unsubscribe at any time and your privacy is always respected.
Are there any aspects of using, choosing or maintaining natural stone that you would like us to cover? Tell us by adding your comment to the box below. We love getting your feedback and are here to help.
Thanks for reading.
Steve Turner
0345 260 8070
Amarestone
P.S. - get the next blog direct to your inbox by entering your email address in the box on this page.