Frequently Asked Questions about limestone and marble
Normally, by this time of year, we would have displayed our French and other European limestone and marble at two or three exhibitions and talked to hundreds, if not thousands, of visitors.
One benefit of being at the shows is that we get to hear what questions people have when making their decisions about which marble or limestone to use for their projects.
The "Event Industry" closed down shortly after the Surface Design Show in February this year and the later shows were all cancelled because of Covid and it became difficult to meet people face to face.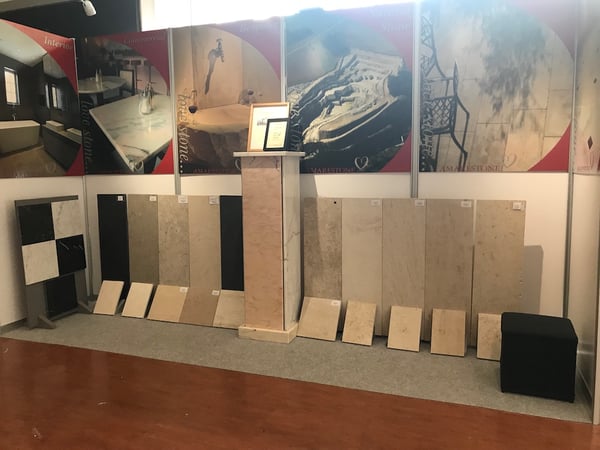 Fortunately, even when visitors were unable to come in person to the showroom, we were able to maintain some level of contact by installing a web chat system where web site visitors can ask questions and request information about any aspect of natural stone.
A number of the same questions crop up regularly so I thought it would be worth having some written answers that people can refer back to. We have a small FAQ section on the web site (which will be updated when time permits) but in the meantime, our blog articles already have the answers to many of the questions.
Here are some of the common questions and links to where you can find the answers.
What Sizes and Surface Finishes Can We Have?

Most people would expect a quarry or manufacturer to offer a set range of sizes and surface finishes. Some of them do but not usually the ones that we like to work with.

Can Limestone be Used Outside?

Summer is a popular time for updating the garden and perhaps for improving the patio. It might seem a long way off but you'll need to pay attention to how the new paving reacts to harsh winter frosts.

How do we Prevent Stone from Staining?

There are several blogs that cover the topic of staining. Sealers can prevent the stone from staining and regular maintenance will also help. We also cover what can be done if things go wrong and stains have set in.

What Other Questions do People Ask?

Try this link if you'd like to know what else people are asking about. We cover lots of different topics and most of the popular questions are answered somewhere in the blogs.
If you have a specific question that is not answered on our blog, you might like to get in touch via the new chat system. Look out for the chat box when this page scrolls. If I can't reply straight away, please leave a message and an email address and I will get back to you as soon as I can.
You can still use the old-fashioned ways of contacting us to get expert help with your natural stone project.
Call us on the office number 0345 260 80 70 or email steve@amarestone.com.

Thanks for reading and stay safe.
Steve Turner
Amarestone
Tel: 0345 260 8070
P.S. - get the next blog direct to your inbox by entering your email address in the box on this page.