Environmental concerns start to take centre stage
Apart from the usual questions about colours, sizes and surface textures, visitors to our stand at the Homebuilding Show raised questions about the ethics and environmental impact of choosing hard surfaces for their homes. With natural stone, we can breathe a sigh of relief.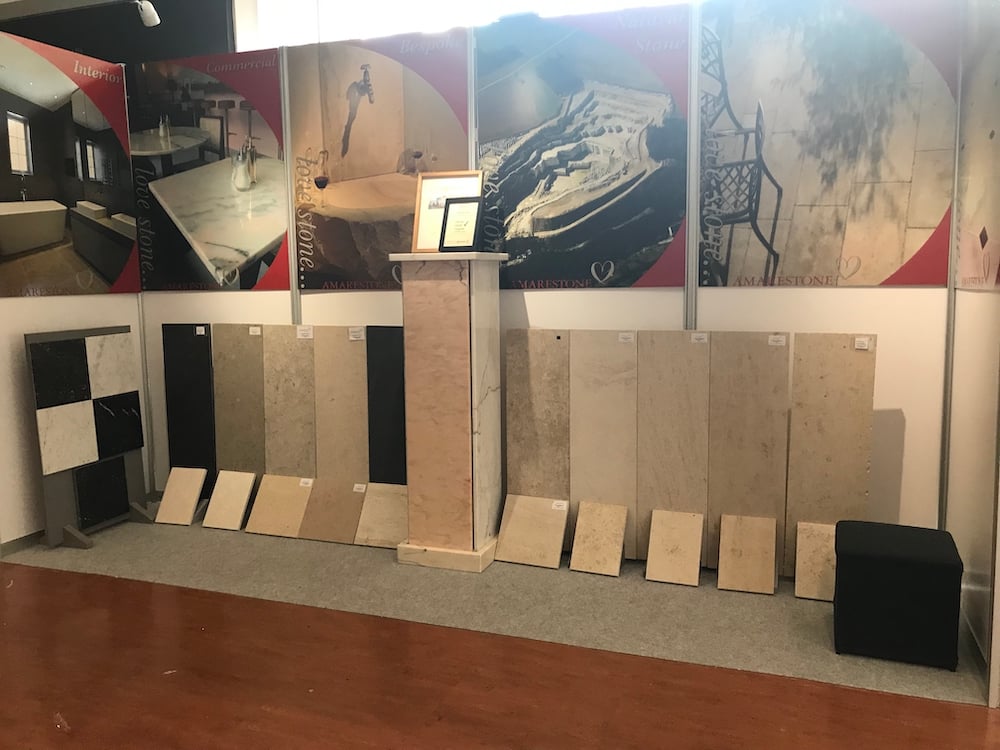 Last weekend, we had a small stand exhibiting a range of European marble and limestone at the Homebuilding and Renovating Show at Sandown Park, Esher. As usual, we had some of our exclusive French limestone and a selection of Spanish, Portuguese and Italian stone on display. When talking to the visitors, as in previous years, we had the perennial questions of "What sizes do they come in?", "Can we use this for flooring?" and "How much is it?".
But this year, we heard some new questions indicating that consumers were beginning to consider issues that went beyond the usual aesthetics and budget when choosing hard surfaces for their homes. For us, as a natural stone specialist and member of the Ethical Stone Register, this is great news that people are beginning to ask more questions about the provenance of the materials.
Some of the questions centred on environmental and health issues and visitors were keen to learn how choosing natural stone over man-made materials was the eco-friendly option.
What's the difference between porcelain and natural stone?
There's an obvious answer to this question but then it can get more complicated when you delve deeper. The simple answer is that porcelain and ceramic tiles are man-made whereas natural stone is just rock, pure and simple.
Porcelain is made from a variety of clay, feldspar, silica sand and "other materials" which are cleaned and graded before being partially dried and shaped. They are then sprayed with a range of chemicals to apply the pattern and glaze and heated to very high temperatures, around 1400 deg C, for long periods to reduce the water content. The questions for the environmentalist are what "other materials" are included, what is in the pattern dyes and glazes and just how much energy is used in heating it? The answers are not written on the pack of tiles or discussed by the salesman and therefore tend to escape consideration.
Porcelain generally performs well as a hard wearing floor covering and its advantage over natural stone used to be that it was believed to be virtually maintenance free. However, one major porcelain manufacturer is on record saying that the biggest problem facing them is one of maintenance. They are now working with a leading sealer company (Fila) to find solutions for sealing and cleaning. The advantages are not quite as clear cut as once thought.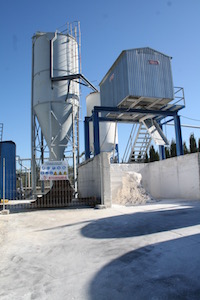 Natural stone (limestone, marble etc.) is nothing more than solid rock. There are no added chemicals and no requirement for intense or even mild heat. The blocks are cut from the quarry using diamond saws powered by electricity that is quite often supplied by renewable energy systems. Water is used in the process of cutting the blocks into slabs and tiles but the water is collected, filtered and recycled and the resulting slurry goes into the cement industry or to farmers for fertilising their land. Off-cuts from the slab or tile processing are crushed and used for road building or sent to cement factories. Nothing from the quarry is wasted. We've always recognised that natural stone is porous and requires sealing to prevent staining. Now we are becoming more aware that porcelain also requires sealing.
The carbon footprint of porcelain tiles is far greater than that of natural stone tiles. For me, the significant difference between porcelain and natural stone is the environmental impact of the two materials.
Is "pre-cast stone" the same as natural stone?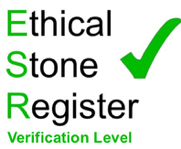 One visitor to our stand at the weekend showed me his plans for a beautiful new house set in glorious grounds. The plans showed stone features on the front facade and he also wanted to use a natural stone for the interior - bathrooms, flooring and on the staircase. We talked about the different options and then had a brief discussion about the stone lintels, window surrounds and features on the house facade. For these external pieces, he had already appointed a "stone" supplier. The well known supplier had offered him "cast stone". He was under the impression that this was a natural solid stone. I'm afraid that he wasn't very impressed when I pointed out that this is essentially concrete. It is cement and aggregate mixed together and then poured into a mould to be sold as "cast stone". It doesn't weather or last like real stone. You only have to look at the concrete high rise blocks built in the 1960s and 70s to see the proof.
Is pre-cast stone the same as natural stone? Most definitely not! Let's call it by its real name - cast stone is concrete.
There is still some education required to alert the general public to this practice of mis-naming a product to make it sound more appealing. The consumer just needs to ask the supplier where the product comes from. If the supplier cannot or will not say which quarry the stone is from, then buyer beware!
Quartz is often used for kitchen worktops but how is it different from granite?
This sounds like a simple question but can lead into long and complex discussions about the the pros and cons of man-made versus natural. If you are in the market for a new kitchen worktop, I would encourage you to do your own research. Here's my take on it.
My first recommendation for the ideal material for kitchen worktops is granite. It is cut from solid rock and is completely natural and recyclable. It's a wonderful material that is extremely hard wearing and will last many lifetimes. (Having said that, we don't actually supply granite kitchen worktops but I can recommend local companies who do.)
A popular alternative nowadays is one of the man made options commonly known as "engineered quartz". These are often marketed as being made from natural materials. That is partly true, they do contain natural materials, maybe up to 95% by weight but the natural materials are heavy so they may only account for about 50% by volume. They also contain unknown polymer resins and chemicals to bind the natural material together. As far as I am aware, there is no regulation governing what is allowed in the recipe for the binder. Recent research in France has uncovered some disturbing results and I would be keen to see if this represents the wider picture. A major supplier of the quartz kitchen worktops in France became increasingly concerned by the potential health implications so he had some quartz slabs tested at a laboratory in Strasbourg. The results showed that the binders in the quartz material contain toxins that are known to be harmful. The worktop fabricator companies who cut and shape the slabs for kitchen worktops need to take particular care in how they handle this material as outbreaks of silicosis have been reported. The New York Times also reported on issues caused by quartz worktops.
Heat Resistance:
From a practical point of view in the kitchen, some of the quartz worktops can be scorched by the heat from a frying pan whereas granite and other natural stone can be heated even with direct flame without any damage.
Acid Attack:
Some natural stone surfaces can be etched by acids (lemon juice etc.) whereas quartz tops are usually unaffected by this type of chemical attack.
Staining:
With regard to staining, a good sealer can prevent many of the problems associated with staining on natural stone but an unprotected stone is very likely to stain. The quartz tops are widely thought to be stain-proof but the reality seems to be that most of them are stain resistant but not actually stain proof. If they do stain, it can then be very difficult to remove the stain. This report from the USA goes into more detail: https://usenaturalstone.org/do-engineered-quartz-countertops-stain/
Stains and acid attacks on natural stone worktops can always be polished out by a specialist renovator. Some DIY kits are available but the results are better in trained hands. For me, though, the immediately noticeable pros and cons are minor compared to the potential longer term health risks. More research is urgently needed.
As I said above, it's good to see that people are taking an interest and starting to ask more detailed questions. Some of the blogs on the Stone Federation's web site talk about a need for greater transparency and honesty in marketing. I wholeheartedly agree with this and would like to see more unbiased data being made available to consumers so they can make a fully informed decision. Stone Federation GB blogs.
If you have any other questions or need expert help with your natural stone project, please call us on 0345 260 80 70 or email steve@amarestone.com.

Thanks for reading.
Steve Turner
Amarestone
Tel: 0345 260 8070
P.S. - get the next blog direct to your inbox by entering your email address in the box on this page.
.