How to Clean Marble, Limestone and Other Natural Stone
Avoid the common problems associated with maintenance of stone floors and worktops
Get advice on sealing and cleaning limestone and marble from the world's leading company on stone care.
Cleaning limestone floors or sealing marble bathrooms is actually very simple but it can go badly wrong if the wrong products are used. Most of the problems that we come across are down to incorrect cleaning and use of inappropriate cleaning products. Fortunately, it is easy to avoid these problems.
Here at Amarestone, we have been using and recommending Fila stone care products for over 10 years. Fila is the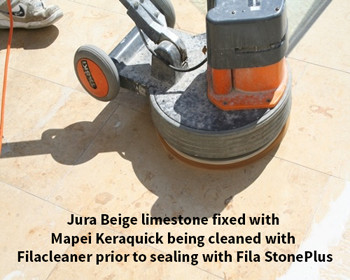 world's leading producer of care products for natural stone. During that time, we have worked with their technical department in Italy to get the best advice on how to seal, clean and maintain the natural stone that we have been supplying to our customers.
We are able to pass on that knowledge directly so that you can now benefit from the expertise of the world's leading stonecare company.
Fila have produced a range of advice sheets all with invaluable tips on how to look after all types of natural stone surfaces. So, if you are unsure of cleaning limestone floors or how to seal a polished marble surface without spoiling the stone, the answers to your problems are all here.
Fill in the form to download expert advice from Fila on sealing, cleaning and maintaining natural stone.
Alternatively, if you would like to discuss your project with our specialist or request a visit to your premises to get specific advice, please call us on 0345 260 8070. (We are based near Reading, Berkshire, UK.)