Choosing Black and White Marble Floor Tiles:

Black and white marble floor tiles have been popular for a hundred years and more. It is still a classic good look for Victorian and Edwardian houses. But with a little creativity, the style can work well in more modern houses and it doesn't have to be limited to a purely black and white colour palette.
In an earlier article, we discussed how to create the look using black and white chequerboard marble tiles in a variety of colours and layouts. In this blog, I'll talk about a few more alternatives that could be used to create the same look and feel.
Since the previous article was written, we have discovered a selection of new marbles and limestones from France and Spain that would work really well in this chequerboard format.
Black and White Floor Tiles - what's new?
As a previous blog discussed, the Spanish Macael marbles offer another high quality option to the more famous Italian Carrara and Calacatta marbles.
In the image below, the white Blanco Macael Spanish Marble pairs nicely with the Spanish Nero Marquina to produce a very elegant, timeless look.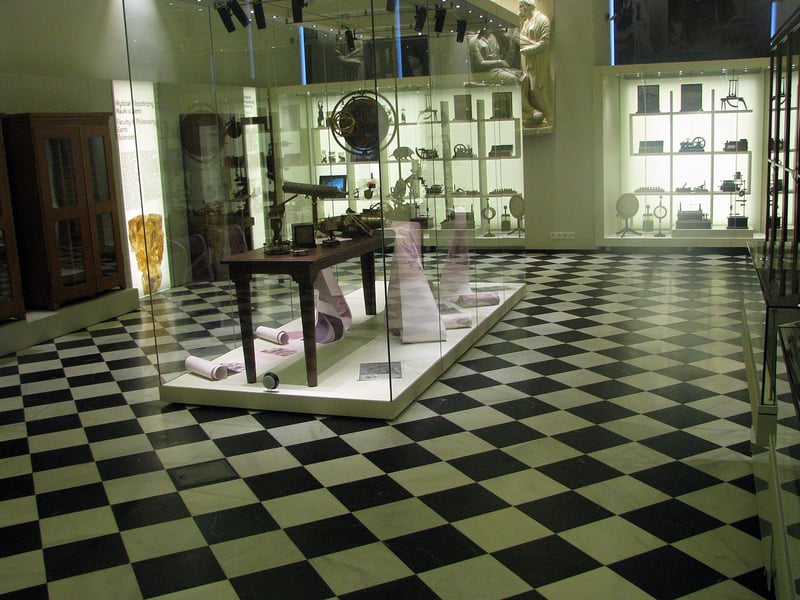 Chequerboard floors do not have to have equal amounts of light and dark. This image below shows how it is possible to keep the whole area nice and light and yet still achieve the black and white chequerboard feel. Here, the client used Spanish Blanco Macael white tiles each with a thin border of black Nero Marquina and a small detail of Blanco Macael to break up the black lines.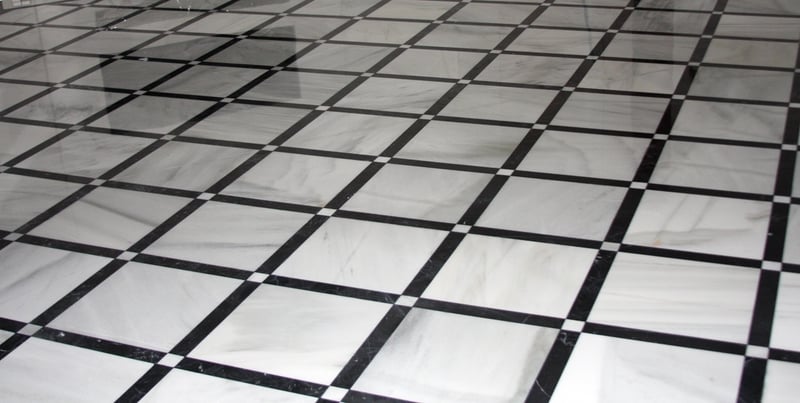 For floors where the contrast is less pronounced, you could try using a softer coloured Crema Marfil with a gentle grey Macael to create a floor that has a more muted look than the classic mix of Carrara and Nero Marquina.
Tip: The use of a wide border tile allows the designer to keep the squared look even if the walls are a little less than perfectly square. Any deviation in angles of the walls can be hidden by the border tile.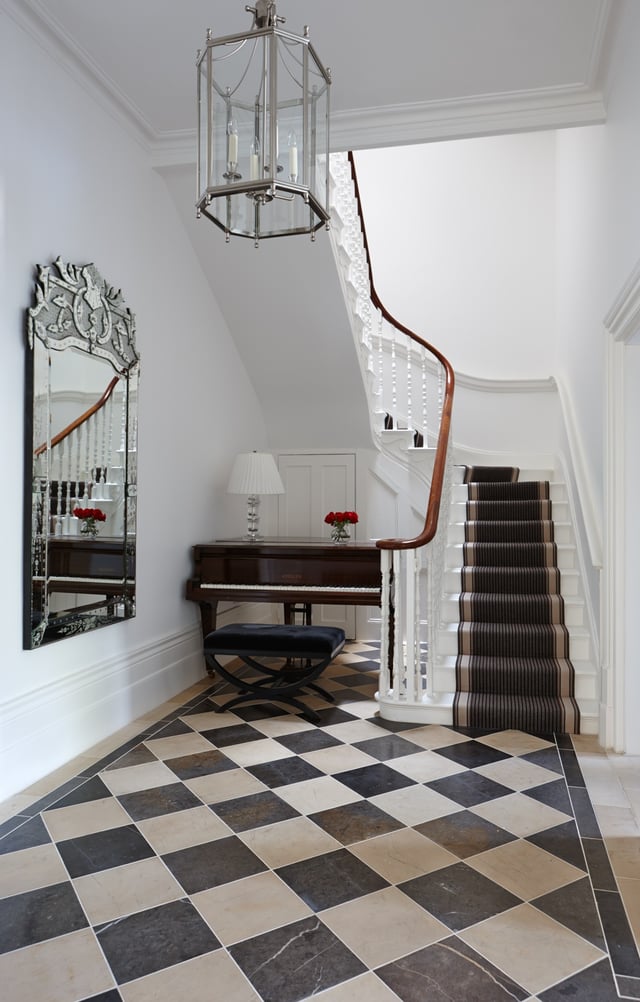 French Limestone options:
France also has a number of options which we have not featured before.
You could consider using any of the following French limestones as the "white" option: Chauvigny, Chamesson, Avy, Roche de Clermont. Or go for something with a stronger colour such as Magny Jaune, Vallangis, Aubigny. For the contract, try the Spanish Phyllite or the Belgian Fossil limestone (which is also known as Belgian Blue, Petit Granit or Bleu de Hainaut).
The image below shows an antiqued French limestone floor using Roche de Clermont with the Belgian Fossil cabochon insets. There are lots of options to create an aged look as well as a modern, contemporary look.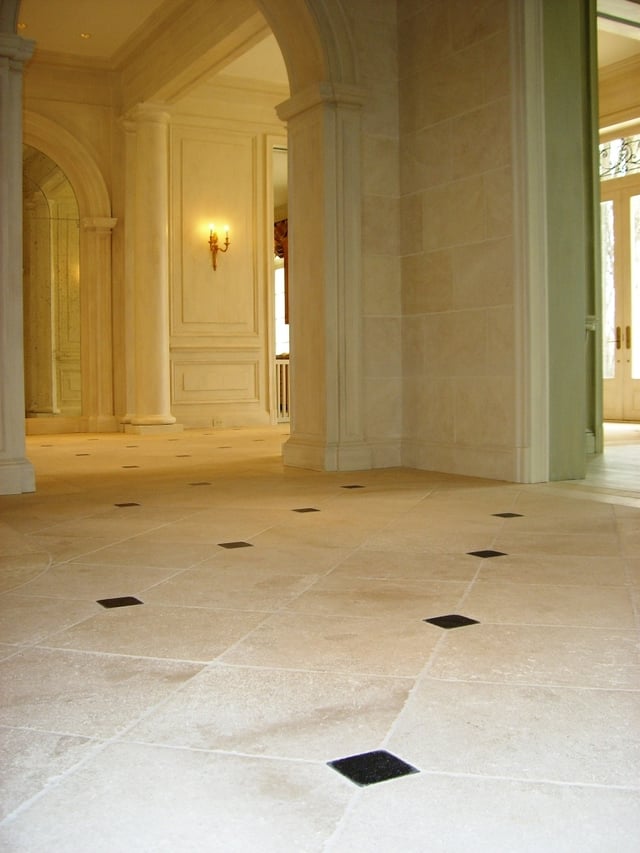 There are so many options. If you would like to see some possibilities, it may be worth a trip to our samples warehouse near Reading in Berkshire where we can put together so many of these options. Just call or email to make an appointment.
Want to Know More?
If you are considering a black and white floor or a variation on that theme and would like to know more or visit my samples warehouse, please either call Steve on 0345 260 8070, email steve @ amarestone.com or add your comment below.
Do you need help choosing natural stone for your project? Our brochure explains how Amarestone can help you choose the right type of stone and ensure a long and trouble-free life.

Thanks for reading.
Steve Turner
Amarestone
Tel: 0345 260 8070
P.S. - get the next blog direct to your inbox by entering your email address in the box on this page.