Will my stone stain? - how to ensure it stays clean.
One of the most frequently asked questions that we get when we are on stand at the exhibitions is, "will my stone stain?" Most people are worried about spilling red wine and what that might do to their limestone flooring. This is something that gets tested on a fairly regular basis at our house!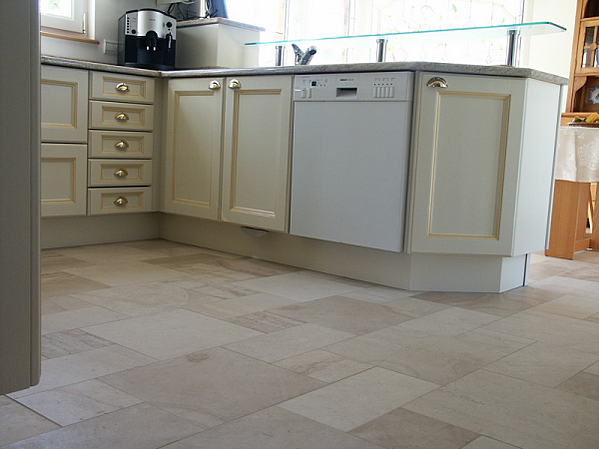 Bois Doré Rubané flooring - see more on our French Limestone page
Last night, I had a call on the same theme but it had a slightly different twist. Katie, our eldest daughter phoned to say that she had been cooking (she's a very good cook but doesn't always have the best hand-eye co-ordination!) and she dropped a pot of turmeric on her pure white Thassos marble kitchen floor. She was horrified. There was a spreading yellow puddle on the pristine white marble tiles. Surely it was going to leave a stain?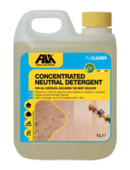 No such thing! The Greek Thassos tiles had been protected with Fila MP90 stain-proofing impregnator when they were first installed and it simply took a wipe over with a solution of Filacleaner to clear up the mess. After she had cleaned up, Katie thought that it would have been great to have before and after photos of the disaster, or rather, the minor mishap. After the event, there was nothing to see, no drama at all.
We've done similar things at home. Once, a whole bottle of red Burgundy wine was knocked off the table onto my Mum's new French limestone floor tiles, also from Burgundy. The only damage was to the bottle and there was nothing to go with the casserole that evening!
Another customer told us about how he dropped a roasting tin of lamb when he was taking it out of the oven and the meat and the scalding fat went all over his new slate floor.
Fortunately, in every case, the stone tiles were well protected with the Fila range of stone impregnators which meant that although you might lose your dinner or your wine, you won't have everlasting stains on the floor to remind you of your clumsiness!
If you are concerned about how you can protect your investment whether it's a stone floor, a marble vanity top or a limestone fireplace, give us a call and we can tell you which of the Fila sealers is best suited to your situation. We can even demonstrate by splashing a little red wine around. But let's not use your best Burgundy!
There is a short video that demonstrates how effective the Fila sealers are. It shows how easy it is to clean crushed berries, mud and algae off a patio that was sealed with Fila Hydrorep when it was installed. See the video on this blog page (opens in a new window).
To help you find out more about sealing and cleaning limestone and marble natural stone floors and worktops, Fila produced a leaflet that gives some hints and tips. You can download it here:
At Amarestone, we specialise in supplying the right stone for your project. We advise on what to choose to get the look you are after and how to ensure that your stone will perform properly in your environment. We provide a complete design, supply and installation service and can continue to support you year after year with a comprehensive after-care service. Please call me on 0345 260 8070 for details of this service.
If you have found this blog helpful, you might like to get the next article delivered directly to your inbox. Just fill in your email address in the box on this page and subscribe.
Thanks for reading.
Steve Turner
Amarestone
Based near Reading, Berkshire.
Tel: 0345 260 8070