French Limestone Restoration Project
Recently we were presented with the interesting and challenging task of carrying out repairs and restoration to a stone altar in a private chapel in the grounds of a large country home in Hertfordshire. Our leading installation and restoration expert, John Montgomery, takes up the story: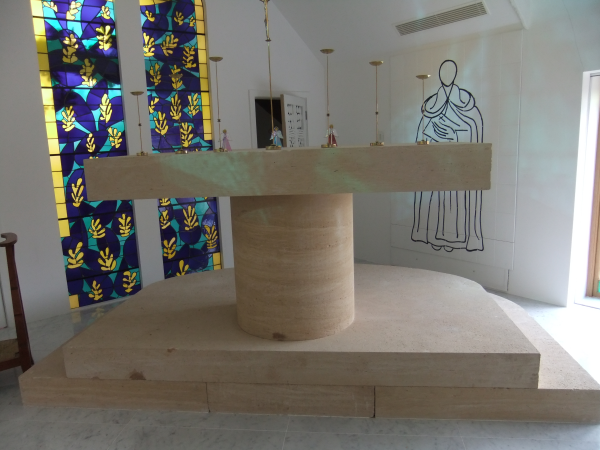 "We always relish stone restoration projects such as this - each one presents its own challenges and you have to be prepared to be adaptable and creative in your approach.
The biggest problem we faced was that this particular french limestone has the texture and look of brown bread. It has holes, there are no veins and the edges are uneven. We knew it would be extremely difficult to disguise the repairs. The damage is visible as dark marks at the base of the cylinder and on the second tier and as large chips on the top table.
The first thing we did was to identify the main problem areas and calculate where we would have to cut out sections and replace with new stone. We then had to find the right type and shade for the resin.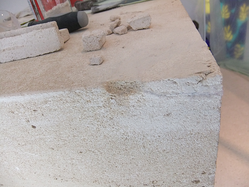 We cut out 9 sections where the damage was greatest and cut and shaped pieces of spare limestone block to fit but leaving them a couple of mm below the surface. These pieces were then carefully secured in place with resin. We then experimented with various types of resins and colourings to try and achieve the right shade and texture to fill to the surface.
After 3 days of trials we came up with 2 methods. For the hairline frames around the replaced sections, we very carefully applied super glue to just below the surface and covered very softly with finely ground dust from the spare stone. This was left overnight to harden.
For the smaller holes and dents, we prepared a mix of straw resin with a little white colouring and stone dust. This had to be applied in several stages as we found that any rubbing down changed the colour and texture of the resin and we would have to start over again.
When we had finished all the repair work, we cleaned off any black marks that had been made by the securing straps during transport and from the boots of the installers (using Fila PS87 degreasing cleaner) and then sealed the whole altar with Fila W68.
The whole restoration process took just over a week and we and the client were delighted with the outcome.
Seeing the results of this kind of high end project, which involves stone fixing and restoration to such an exacting standard is why I love working as a stone fixer.
Here's the finished result: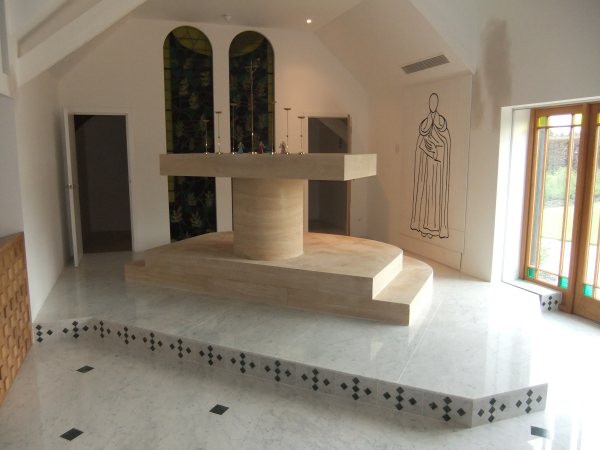 I'm looking forward to my next challenge!"
John Montgomery
Office Tel: 0345 260 8070
Email: john@amarestone.com
You can see more of our French Limestone here.
Note from Steve:
The marble flooring in the chapel is 900x900mm Italian Carrara marble with Verde Guatemala cabouchons. For more information on Italian marbles, see our other blogs:-
- "Italian Marble - what makes it so good" and
- "Italian White Marble - perfect for prestige projects"