Home of the Rosa – Portuguese marble is pretty in pink.
Our previous blog talked about Portuguese limestone, particularly Moleanos and Moca Creme, and about how these Portuguese stones can be a designer's delight for their uniformity and predictability of colour and veining/shelling.
Lesser known is the marble that originates from Portugal and yet Portugal has a long heritage, supplying marble for sculpture and architecture since the Roman times. Portuguese marble was widely exported throughout Africa, India and Brazil and was used in the building of the Circus Maximus in Spain. Today Portugal is second in the World when it comes to the export of marble, behind Italy. Along with Vila Viçosa and Estremoz, Borba is one the main marble producing areas in Portugal and is internationally known for its fine Portuguese marble. Of particular interest is the range of pink marbles that are in high demand, known as Rosa marble. If you are looking for a dash of pink in your stone for a design or architectural project then Portuguese marble should be at the top of your list, but it's worth understanding how the various types of Rosa marble differ.
Rosa Aurora Crème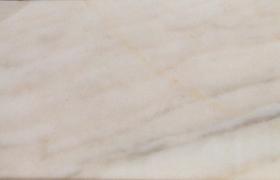 Internationally recognised, this cream rose marble is one of the finest natural stones when polished and as the name suggests, is a cream colour with warm tone pink / peach veins running through. It is also known as Estremoz Cream.
We recently paired this up with the French Noir St Laurent marble to create an exquisite variation on a "black and white chequerboard" theme.
Rosa Aurora Claro (White)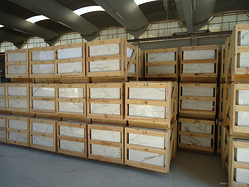 This marble, although still part of the Rosa family of Portuguese marble has a whiter background and brownish veins running through. It offers more flexibility by being of a more neutral colour. Also known as Estremoz Bianco.
Like most high quality marbles, the quarry grades the output and the higher grade versions of this stone have a brighter, cleaner background with more defined veining. The quarry defines the grades as "P1" (higher grade) and "P2" (standard grade). Both are top quality marbles and suitable for use throughout the home.
Rosa Aurora Rosa (Pink)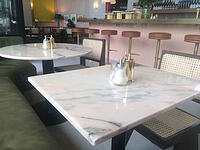 One of the most famous varieties the Rosa Aurora Rosa or Estremoz Pink, as it's also known has a more pronounced pink background with either brown or reddish veins running through.
Choose this particular version of the Rosa Aurora to create a very striking "shocking pink" effect.
This marble was recently used for the table tops in a new London restaurant. The interiors architects (Gundry and Ducker) made a fantastic job of the restaurant interior and used the marble to complement the decor in Bill Granger's new Kings Cross restaurant.
Rosa Aurora Azul (Blue)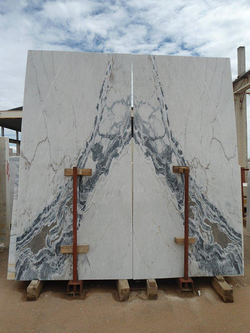 One of the least known of the Portuguese marbles is the Rosa Aurora Azul (or Blue). Quarried in the same location as the better known pink marbles, there is a seam of blue marble. It has a white or cream background with wide blue veins. As bookmatched slabs, this can make a dramatic statement in an interior design project.
You may have a preference in mind if you are set on a Rosa Marble but it's always worth remembering that marble is a natural stone and can vary considerably in shade and markings. Each of the varieties of Rosa Portuguese marble discussed above, have their own hues and shades but we would always recommend calling us to discuss your project so we can help you select the correct material for the application you have in mind. We can help with lots of advice about choosing the right marble for your home.
The most common type of finishing for the Rosa family of marbles is to have the stone highly polished, which most highlights its pink color and well defined vein patterns. However, it is also possible to find other effects such as honed, brushed and aged finishing.
For more on marbles from Portugal, visit our Portuguese Marble page.
To see other types of Portuguese natural stone, have a look at our blog page on Portuguese Limestone.
If you are unsure about how you can use natural stone in your project then please have a look at our top 5 tips for using stone for some ideas and guidance.
Did you find this useful or interesting? Then join our mailing list and get a copy of the next blog direct to your email inbox.
We don't do a hard sell and promise not to bombard you with an overload of emails. Just enter your email address into the box at the top of this page (or bottom if you are reading it on your mobile) and you will automatically get the next article.
You can duck out at any time, there's no pressure.
Are there any aspects of using, choosing or maintaining natural stone that you would like us to cover? Tell us by adding your comment to the box below. We are here to help and love getting your feedback.
Thanks for reading.
Steve Turner
0345 260 8070
Amarestone