Where it all began...
Husband and wife team, Steve and Denise Turner, started the company almost 10 years ago when they were looking for a fresh start. Denise began her career as a biochemist, later moving into IT. Steve went straight into the IT industry after university and worked his way up to running a successful IT project management business.
Then, in early 2000, after the millennium bug that didn't happen and the sudden crash of the IT industry, Steve and Denise realised that it was time for a career change and started working on the business plan for what would become Amarestone.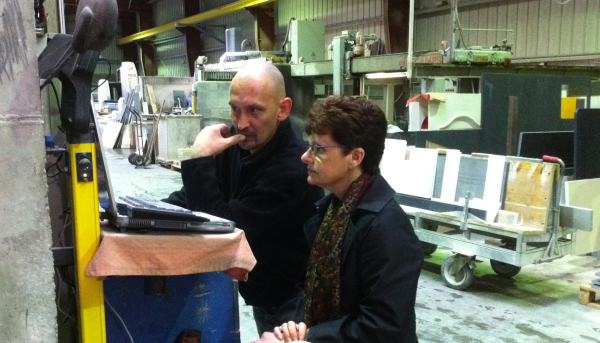 Denise discusses the design of a water-jet cut project with expert mason, Franck
The idea for Amarestone came about when a contact introduced them to natural stone. Fascinated by the variety and complexity of natural stone, they went on to research the potential market for high quality material delivered with an all inclusive design and fit service. There were a few tough years getting to grips with the ins and outs of the industry but Steve and Denise were able to transfer existing skills such as customer service, attention to detail and professionalism.
Working with world-class industry experts from the outset has been a major contributing factor to the success of the company. In the early days, Steve and Denise actively sought out help from the Stone Federation of Great Britain, and other highly regarded technical experts at companies such as Fila and Mapei. These relationships have strengthened over the years and Amarestone clients benefit greatly from this shared expertise.
Amarestone for Architects, Interior Designers and Private Clients
Amarestone specialises in providing architects, interior designers and private clients with expert technical advice to help them achieve the best and most appropriate solution for their projects.
Sourcing the highest quality marble, limestone and other forms of natural stone from around the world is fundamental to the business. Building relationships with quarries and specialist natural stone importers means that Amarestone has access to some of the highest quality and rarest material in the world. For some quarries, Amarestone is the sole distributor in the UK.
Steve and Denise are keen to help you make an informed choice and are on hand to assist throughout the project. The duo have built up an in depth knowledge of natural stone and are well regarded by other professionals in the industry. They are happy to share advice and take the time to get to know your specific requirements through conversations over the phone and site visits.
Design professionals are advised to research and understand the new CE marking requirements, particularly regarding natural stone. Steve and Denise will be happy to answer your questions on this subject and explain how the regulation will affect your work.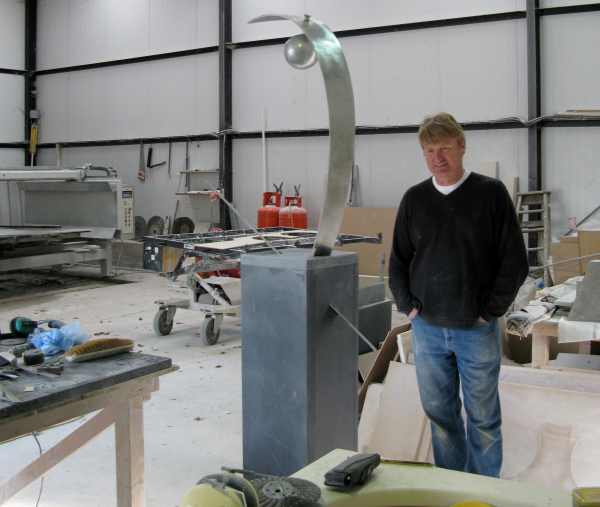 At the workshop, Steve inspects progress on a slate plinth for a renowned artist.
If you would like to know more about how we can contribute to the success of your natural stone project, our brochure is a good starting point to understanding what we can do for you.