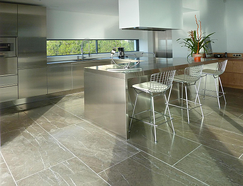 UPDATE: 25/09/2020
Very sad to hear that Luis Sanchez Diez are having financial difficulties at the moment but we're in contact with them and wishing them well for finding a way through the present trouble.
Watch this space.
Steve
---
During a visit to Marmomacc, the international natural stone show in Verona in October this year, I had another look at the fabulous range of limestone from Luis Sanchez Diez that I spoke about below. I'm pleased to say that a new batch of samples arrived in my warehouse recently. Please get in touch if you would like to see the new range.
In my last blog, I mentioned that we had been visited by some Spanish quarries recently and had been shown some new and interesting marbles and limestones. One of them is a beautiful, hard grey limestone with subtle veining that I believe will be very popular with interior designers, architects and private clients alike.
I am very pleased to say that Camillo from the Luis Sanchez Diez quarry has very kindly written some notes on their beautiful bronze-grey Siera Elvira, otherwise know as Grey Venezia.
So here it is, from the people who quarry the stone:-
*******
Quarry location: Granada, Spain
Petrographic denomination: Biosparite, dolomitic limestone
Original name: Bronceado Gris Sierra Elvira (Bronze Grey Sierra Elvira)
Commercial name: Grey Venezia
Grey Venezia is one of the ornamental building stones most widely used in the historical monuments of Eastern Andalusia. In the province of Granada it can be traced back to Roman times, indeed, the city´s Archaeological Museum exhibits a Roman gravestone made with Grey Venezia.
Throughout history and even today, Grey Venezia limestone has had an important role in the building industry in Eastern Andalusia and particular in the province of Granada. In the natural stone industry, Grey Venezia limestone is know as Bronze Grey Sierra Elvira because of the diversity of its coloration, which ranges from dark grey to greenish bronze.
With petrographic, physical and mechanical properties that ensure limestone strength and durability, it is a high quality building material suitable for both structural and ornamental purposes. These properties can be attributed to the minimal open porosity and excellent water resistance that characterize the stone, as well as to its high mechanical strength.
[Further technical details of the limestone are available from Amarestone on request.]
The stone blocks are extracted from the quarry and transported to our factory in Novelda. The blocks are random sizes and can vary between 4.5 and 7 cubic meters. The stone blocks are kept at the stock yard at the factory awaiting a production order. Depending on the size of the blocks, they can be cut by gang saw machines, single wire, or block cutters.
For the production of slabs, the blocks are cut either by gang saw machines or by single wires. They can then be given a surface finish which is polished, honed, flamed or brushed.
To produce tiles for floors or walls, the blocks are cut by block cutters or on a bridge saw. These machines can produce tiles of different sizes and thicknesses which are then loaded onto the polishing lines to apply the different surface finishes. Alternatively, the slabs can be put on multidisc slab cutter to place tiles into a production line for selection process or surface finishing.
The possible surfaces finishes for Sierra Elvira (Grey Venezia) are the following: Polished – Honed – Brushed – Sandblasted – Split face – Striped – Flamed – Flamed+Brushed.
The stone is packed depending on the format, slabs are packed into wooden bundles for loading into containers or onto metal A-frames to be shipped by truck for domestic or European locations.
Tiles are carefully and securely packed into tailor-made wooden crates to protect the stone during the journey to their final destination.
The most important project carried out with Grey Venezia is the Terminal 4 Satellite Barajas Airport, Madrid, Spain. Our quarry supplied more than 75.000 sqm of tiles for the flooring with several sizes from 900x900, 900x750, 900x600 at 30 mm thickness. Other projects carried out recently with Grey Venezia is the flooring for the Convention Center Mohamed Benhamed, Oran, Algeria with tiles 600x300x30 mm.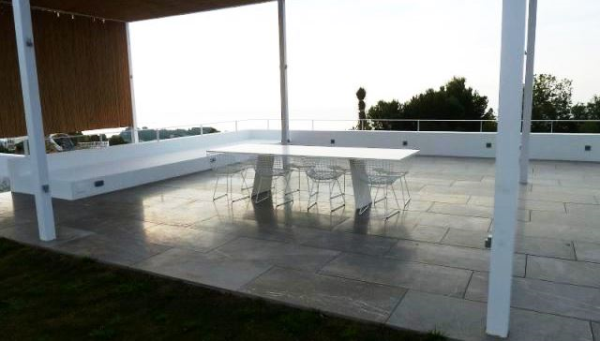 Above: Grey Venezia (Siera Elvira) Limestone on a patio
*******
My thanks to Camilo. We look forward to getting an insight into another of the Spanish marbles and limestones in the near future.
If you would like to know what to look for when choosing and using natural stone in your projects, our free handout might be just the thing you need. You can download it by clicking below:
Thanks for reading. To get the next blog delivered directly to your inbox, simply sign up for the blog by entering your email address into the box on this page.
Steve Turner
Amarestone
0345 260 8070