French Limestone at Ecobuild and HB&R Show 2015. Over the last few weeks we have been busy rushing from one part of the country to another for trade shows, quarry visits and client meetings. March is always a busy time of year as spring gets underway and projects that have been in the planning stages over winter start to gather pace.
At the beginning of March we were at Ecobuild which took place at Excel, London. This year we decided to team up and share a stand with the Stone Federation, our industry trade organisation.
The Stone Federation GB 'provides a one-stop shop for product information, technical guidance and advice on all aspects of specifying and working with stone.' We are keen to encourage our clients and anyone interested in using natural stone to make the most of the help on offer from the Stone Federation, in particular with regards to sustainable design. Visit stonefed.org.uk for more details.
Regular visitors to Ecobuild will have noticed that this year it was bigger than ever and that the quality of the features is improving year on year. Perhaps this is a reflection of renewed optimism in the construction industry and wider enthusiasm for sustainable design. We are looking forward to seeing what 2016 brings!
At the end of the month, we were in Birmingham for the Homebuilding & Renovating Show at the NEC. We decided to feature French limestone for our display because we were excited to show off a new selection of stones from our quarries in France.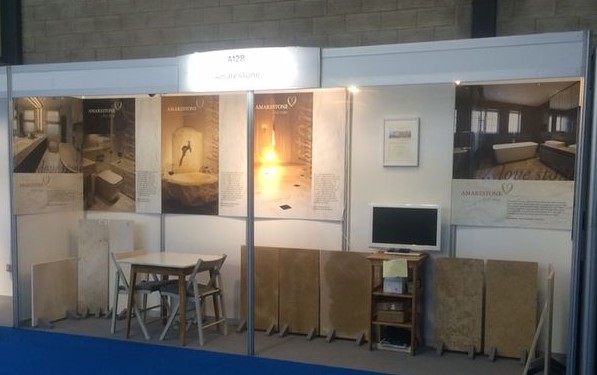 Interestingly, a number of visitors that we spoke to are in the process of restoring listed buildings and planning conditions on their projects often include the choice of flooring. Every project is unique and each person has a different approach to the restoration process so there is no single 'right' way to restore floors in a listed building.
We enjoyed talking through different aspects of natural stone projects with visitors and answering their questions relating to topics including building a suitable substrate, the installation process, maintenance, and choosing natural stone.
One of the topics that came up frequently was the choice of surface finishes available. Quite a few visitors said that they were concerned about slip resistance when choosing natural stone for their project so were interested to hear that every quarry we work with produces a variety of surface finishes according to the properties of each stone.
For example, stones with a very fine grain such as Spanish limestone Crema Zamora limestone can take a high degree of polishing, whereas those with a coarser composition such as French Vallangis limestone are more suited to a brushed or antiqued finish. The quarry will produce a variety of surface finishes, usually ranging from honed (smooth) through to antiqued or even bush hammered (highly textured).
For more information about this or any other aspect of specifying natural stone, please feel free to contact us on 0345 260 8070 or via our contact page.
We would like to thank everyone who took the time to visit us at Ecobuild and HB&R at the NEC, we hope that you enjoyed the show.
Our next event will be the Homebuilding & Renovating Show at Sandown Park racecourse, Surrey, 27-28 June 2015.
We will send out registration details and free tickets for the show to all our contacts, so please do subscribe to our blog now so that you don't miss out.
If you would like to know more about how we source natural stone for projects, please download our brochure or just phone or email for a chat. We're always happy to talk about natural stone!
Thanks for reading.
Steve
Tel: 0345 260 8070