French Limestone Flooring for external use.
Did you know.... Paddington and Bristol Temple Meads stations both use French limestone as paving on their busiest platforms. Still think limestone isn't hard enough?
French Limestone is such a great choice for both internal and external flooring. There are so many different options for colours and textures. Many of them are suitable for use as external patio paving as they can be very hard and frost resistant.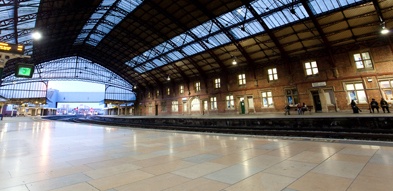 The station platforms I mention above both use Rocheret limestone in a mix of the Jaune (yellow) and Gris (grey/blue) colours. Look out for them next time you take the train.
It is crucial to make sure that your chosen stone has been tested for frost resistance before you contemplate using it outside where the British winter can wreak havoc in a surprisingly short time.
The EU is very much in the news at the moment and we have heard the arguments about how the rules imposed by the EU are affecting British businesses. These rules exist to help protect the consumer and one of the most important regulations that affects the building trade is the requirement for CE Certification.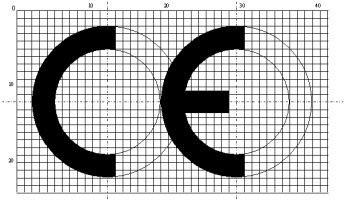 In our natural stone business, the CE Certificate demonstrates that the stone has been subjected to a series of tests. These tests tell us about the strength of a stone and the porosity of the stone. But for those planning to use the stone outside, the most important test tells us about the frost resistance capability of the stone. It shows how many freeze/thaw cycles the stone can withstand before being damaged by the frost. Typically, we would expect any stone used outside to be able to withstand at least 140 cycles and maybe more in harsher climates. (Many of the French limestones have been tested to survive over 240 cycles.)
This regulation applies to all stone that is used "structurally". Tiles, flagstones and paving slabs are deemed to be structural and, therefore, all stone tiles, flagstones and paving slabs must come with a CE Certificate.
However, there are still many different stones that are sold in the UK without the CE certificate. It means that we can't be sure how they will perform. Using them would be risky as well as illegal.
One of the key reasons why I believe French limestone is such a good bet for use as external paving stone (as well as inside) is that the good French quarries have been testing their stone for the last 50 years or more. Some of them were instrumental in persuading the EU that these tests are necessary to protect consumers and this led to the CE Certification law coming into force across the EU and into the UK on July 1st 2013.
So now, there is a standard set of tests that should be carried out to prove the suitability of a stone. The test results are recorded on the CE certificate. It is then up to the specifier to interpret the results and decide if the stone is fit for the particular purpose it is being put to. A good supplier will be able to help interpret the results and ensure that the client ends up with a stone that is fit for purpose.
Here are just a few of my favourite French limestones that have been tested and proven to work really well outside:
Ampilly French Limestone:
Ampilly is a hard limestone quarried in the Burgundy region of central France. This stone is used extensively in prestigious projects in the South of France but is still relatively unknown in the UK. It deserves to be seen more as it is such a hard, practical stone that works really well both inside and out.
I have used this stone on my own patio at home. It was installed around 8 years ago and still looks as good as the day it was laid. Other uses of the Ampilly include outdoor swimming pool coping stones, steps, wall copings, a garden bench, external paving and even a carved lion's head garden water fountain as well as internal flooring projects.
Avy French Limestone:
This is one of the more unusual limestones in that is has white shell fossils and just a small number of brown and grey fossils. The background is off-white and so can be used to great effect in neutral colour schemes. It works extremely well for internal flooring stone as well as for external patios, pool surrounds, wall cladding, structural pieces and a huge range of other external uses.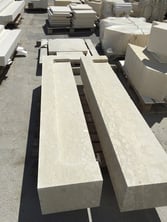 As with any of the other French limestones mentioned here, the Avy can have a wide variety of surface finishes applied and is available in custom sizes to fit the requirements of your project. So, for example, if you need the tiles cut to, say, 43 or 44.5 cms wide instead of the standard 40cms so that you can avoid thin cuts at the edge of your space, then it's no problem. It can even be cut as large blocks to create arches and pillars, as in the image here. The quarry was closed for many years and has only recently re-opened so, like the Ampilly, it is not yet well known in the UK. I think that might change over the next few years and we'll be seeing a lot more of it.
Rocheville French Limestone: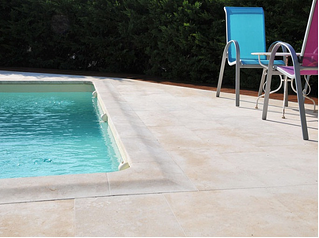 Rocheville is another of the Burgundy limestones that is suitable for external as well as internal use here in the UK. This limestone has great character and the sandy bands that run through it are typical of the limestones from the Burgundy region of France. There are also lots of small grey/brown shell fossils that distinguish this stone from some of the other Burgundy stones.
So, if you are looking for something with a little extra character that is hard-wearing and frost resistant, the Rocheville will be well worth a closer look.
************************************
These are just three of the limestones from the huge range that has been tested and would make the perfect French limestone flooring for external patios. There are lots more and I will talk more about them in a future blog.
There are so many things to think about when contemplating using natural stone outside and this article has just touched the surface on one of the main points. My key message to you when choosing stone to use outside is to make sure the freeze thaw tests have been carried out and the results show that it is fit for purpose.
You can find out more here about our French Limestone.
If you would like to talk through these and any other aspects of using natural stone, please call me on 0345 260 8070 or email steve @ amarestone.com. I am always happy to talk about natural stone!
We have produced a guide for Landscape Designers that explains more about choosing stone for outside. You can download your own copy here:
Thanks for reading.
Steve Turner
Amarestone
Tel: 0345 260 8070
P.S. - get the next blog direct to your inbox by entering your email address in the box on this page.