Coming so soon after the Surface Design Show in London, the Expo Revestir Show in Sao Paulo, Brazil showed that the trends in South America are not so different from those we saw in London a month earlier. Here's what we saw at the London Surface Design Show.
So, what are the trends that we see emerging this year?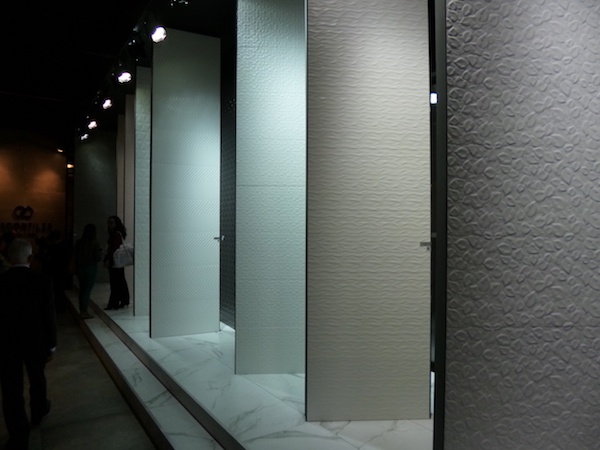 Earlier this month, I was invited out to Brazil to visit the Expo Revestir Exhibition as a guest of the organiser, Ancafer. It was quite an honour to be invited as there were only 3 people from the UK on the delegation. We met up with a number of VIP visitors from Australia, USA, South Africa and other parts of Europe. The organisers did a brilliant job of looking after us and I'd like to add a note of thanks to HG Turismo who drove us between the hotel and the venue and coped admirably with the busy Sao Paulo traffic.
It struck me that the most significant trend that emerged from the Brazil show is the use of texture as wall coverings. In fact, this is not so different from what we saw at the London Surface Design Show last month.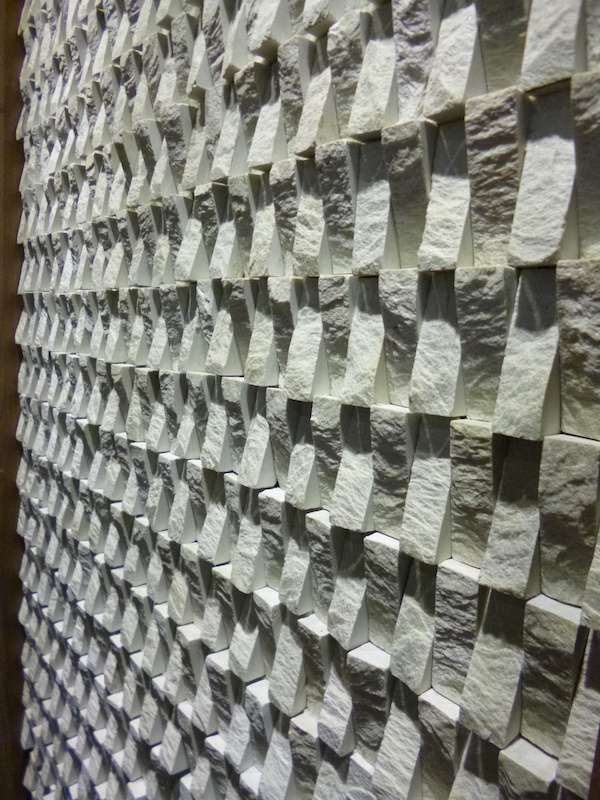 Although the Expo Revestir show was predominantly displaying porcelain materials, there were some natural stones on display as well. The image above shows a strong geometric mosaic pattern made from a Brazilian quartzite stone.
Quartzite is a type of metamorphic slate, harder and more durable than regular slate, but slate itself also performs well as a textured wall surface. The design below uses a split face slate made from different thicknesses.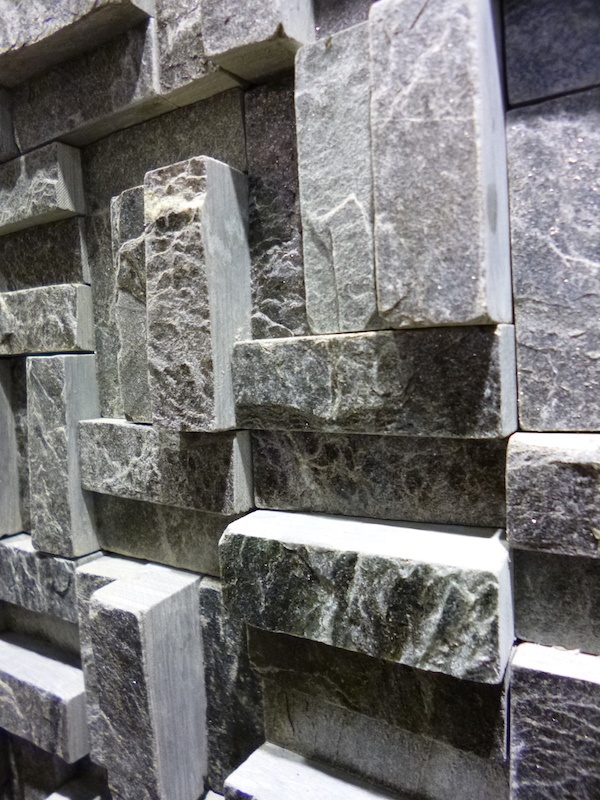 As I mentioned above, porcelains were the dominant material at the show and there were some excellent examples of creative use of porcelain designs. Some of them were great combinations of textures and metallic effects.
There were also some a few displays of porcelain tiles that imitated natural stone. Many were lifeless, photographic copies, usually of Calacatta marble. But, the worst of them, in my view, was one labelled as Portland Stone. This came in 3 colours, light grey, mid grey and dark grey, none of which looked anything like Portland Stone. They were a copy of someone's idea of what this famous stone should look like, but probably someone who had never seen real Portland Stone.
Leaving that aside, the show opened my eyes to what good porcelain tiles can do. That's not something I thought I'd hear myself saying! (I'm openly biased towards the beauty of natural stone - if you've spoken to me on the subject, I'm sure you'll have noticed.)
In general, the design of the exhibition stands was outstanding and there were some displays that must have really challenged the set builders. This one, particularly, stood out for me:-
I loved the way the water fall had been programmed to show patterns and even logos. Very impressive.
So, it made me think, how can we use textures in natural stone to keep up with the trends that we have seen in the recent design shows? Well, the answer is that we can use CNC machines to carve bespoke patterns or water-jet machines to cut stone to a specific design. It just takes a creative mind to come up with a design coupled with our knowledge of the technical possibilities to create something unique and on trend.
There are some examples of textures above and in our blog on the Surface Design Show but we can also create more subtle textures. Marble and limestone tiles can be textured in a number of different ways, some of which are discussed in the article on surface finishes.
If you have a project in mind and would like to discuss the different possibilities or perhaps get some design ideas, please give us a call or get in touch by email (my contact details are below).
Our brochure explains more about how we work and how we can help your designs using natural stone project be successful.
Thanks for reading.
Steve Turner
Amarestone
Tel: 0345 260 8070
Email: steve@amarestone.com
P.S. - get the next blog direct to your inbox by entering your email address in the box on this page.